As warm weather replaces winter's chill, it's time to prepare your home for spring with improvements that add style while saving money, time and energy. Great gear and products make every springtime DIY endeavor successful, and the following helpers are smart additions for the season's project to-do list. Prepare your home for spring, then get ready to enjoy the results throughout the coming months!
Stylish views that save energy
Upgrading your windows to energy-efficient models not only spruces up home value but also puts money back into your pocket through monthly energy savings and the opportunity for a big tax credit. Thanks to the American Recovery and Reinvestment Act of 2009, you can get 30 percent of qualifying windows' cost up to $1,500 as a tax credit when you sit down to do your 2010 return. The qualification part of this endeavor can be a little overwhelming, with U Factors, Solar Heat Gain Coefficients and other window features as determining factors, but Simonton Windows simplifies the process with its ETC (Energy Tax Credit) glass package guaranteed to meet the strict criteria. Plus, Simonton sweetens the tax savings by giving you $150 towards your 2010 tax prep at H&R Block. For a stylish view of energy savings and tax incentives, check out Simonton's dedicated ETC zone at www.simonton.com/taxcredit.
Perfect painting projects
Proper preparation is what makes any painting project a success, and clean, sharp edges make the results look truly professional. Using masking tape or low-quality painter's tape can undo all your hard work by allowing paint to bleed and leave a ragged finish. So, if painting is among your plans for preparing your home for spring, be sure to pick up Frog Tape along with your other painting supplies. Frog Tape is the only painter's tape treated with PaintBlock, a super-absorbent polymer that traps liquid and prevents it from bleeding underneath. As a result, you'll get those professional lines you're after without spending extra time on touch-ups. Look for Frog Tape at Lowe's, Sherwin-Williams and other fine paint and hardware retailers.
High design and big convenience for the kitchen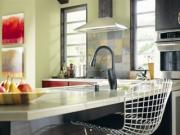 Restyle your kitchen in one speedy springtime step by investing in a stylish faucet offering conveniences you'll appreciate year-round. Moen's new Arbor Pulldown Kitchen Faucet delivers great design and improved functionality with a graceful hich-arc spout, multi-function pulldown wand and a docking mechanism. Available in a single-hole mount, the Arbor faucet blends beautifully into granite and other solid-surface countertops, and a cover plate is also included as a styling option. The faucet's unique S-shaped handle is backed up by Moen's new 1255 Duralast cartridge for a consistently smooth handle feel, and the touch of a button is all it takes to switch between several water flow patterns including an aerated spray, stream or Moen's patented pause. The Arbor Pulldown Kitchen Faucet is ADA compliant, comes with a limited lifetime warranty, and is available in Chrome or LifeShine Classic Stainless. To find your local Moen dealer, visit www.moen.com.
Safety check for patio appliances
When you prepare your home for spring it is important to do a safety check and tune-up all the gear you'll be using during the new season. Patio appliances should be high on that list, especially since the Propane Education and Research Council's (PERC) recent study found that most of us will use our outdoor living area 15 to 20 times a month once warm weather arrives. Propane appliances like gas grills, gas heaters, gas lanterns and even gas firepits are typically part of outdoor rooms, and now is the time to a safety check on all of them. Consult manufacturer guidelines for product-specific tips, but the basic guidelines include the following:
Check tanks and hoses for leaks (easily done with soapy water).
Move any combustibles well away from propane appliances.
Replace lava rock and clean the burners in gas grills.
Clean grill cooking grids and check them for cracks.
Check your grill's igniter; if it doesn't work after the first two or three tries, turn off the gas and replace the igniter.
During gas grill testing, keep it open until you're sure it's lit, even if you have an electronic ignition.
For more springtime safety tips, visit www.usepropane.com.
Easy maintenance for a lush lawn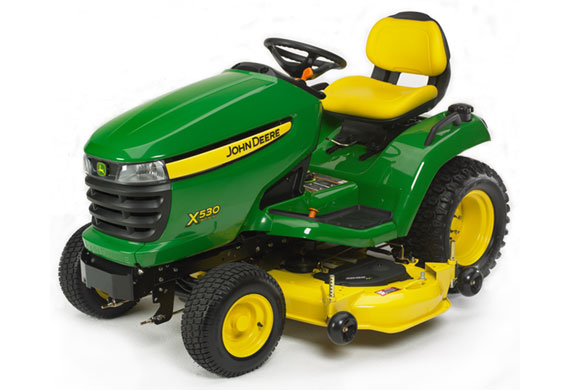 Maintaining that lush landscaping becomes much less of a chore when you drive the activities with a multifunction mower. John Deere offers terrific tractor-mowers with heavy-duty Cargo Mount attaching points to accommodate a range of compatible equipment, and better height-of-cut control via rotary dial knobs with a cut height range of one to four inches. The X530 Multi-Terrain Tractor has power steering for effortless control with a tight 22-inch turning radius and high maneuverability, a hydraulic lift control for the mower deck, a 54-inch Edge Xtra Cutting System, and a Twin Touch automatic transmission with comfortable two-pedal foot control. The X534 model includes hydraulic power steering to maximize the benefits of four-wheel steering, and has a 48- or 54-inch Edge Xtra Cutting System for high performance in all conditions and operating modes ranging from side discharge to material collection. Prepare your home for spring with a visit to www.deere.com or your local John Deere dealer.