We actually spend about a third of our lives sleeping, so why not do it on a better mattress? BedInaBox.com mattresses are designed to help you achieve a deeper, more rejuvenating sleep – and they arrive at your doorstep compressed into a small box, allowing you to move the mattress through your home much more easily.
BedInaBox.com's memory foam and latex mattress lines have been developed through vigorous research and testing to relieve pressure and help control the sleeping temperature, allowing you to rest throughout the night. The company's exclusive memory foam reduces tossing and turning at night and sleeps cooler than traditional memory foam mattresses.
BedInaBox.com specializes in customizing a sleep solution based on customers' personal needs. The company's sleep solutions have outperformed the leading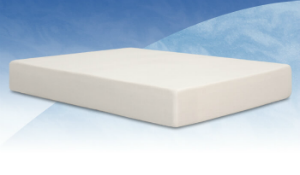 brand in pressure-relief tests, and its innovative designs have helped 99% of customers sleep better. Their mattresses are consistently rated higher than the competition on third-party review sites.
BedInaBox.com's memory foam rebounds faster, sleeps cooler and immediately conforms to your body, allowing you to get into your body's ideal sleep position faster. No more waiting for the foam to respond to your body heat, or rolling back into a crater created by your body.
All of the company's products are made with "Made in the USA" certified foam, which has been tested for durability, performance and harmful chemicals. By using U.S.-made foam, BedInaBox.com can ensure that customers are getting the highest quality mattress possible. And BedInaBox.com is the first company to have its entire mattress line certified Skin-Friendly and CertiPUR-U.S. certified to not contain harmful chemicals.
BedInaBox.com mattresses arrive at your home in a box that is roughly 20x20x48. Once you've brought it inside to where you want it, simply open the box and place the mattress on its foundation and open. Once the plastic is cut, it will quickly rise back into shape, and will be ready to sleep on in less than 5 minutes. The company's foam was designed specifically to withstand the compression and still last 20 years. The mattresses have passed a 20-year stress test performed in a third-party lab with no issues – after being compressed and left in the box for an extended period of time!
BedInaBox.com realizes that buying a mattress over the Internet seems risky, which is why they offer a 120-day zero-risk return policy. You get a 100% refund if you are not satisfied, no hidden fees or charges.
If you're seeking a deeper, more rejuvenating sleep, BedInaBox.com's memory foam and latex mattress lines will help you stop tossing and turning, stay cool throughout the night, and wake up fully rested. Pricing starts at $699 for a Queen size mattress. Buy online at www.bedinabox.com or at select mattress retailers.