Add style to your holiday home in one easy step by refreshing furnishings with Minwax Wood Finishing Cloths. They combine stain and finish in a pre-moistened, wipe-on cloth, making it simple to finish everyday furniture as well as cabinets, woodwork and wood accessories.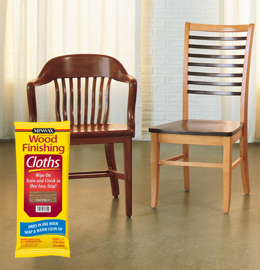 Minwax Wood Finishing Cloths come with stain, finish and gloves—all you need to complete an unfinished wood project. Just give wood a light sanding, remove any dust and simply wipe on the stain, then wipe off the excess. The stain dries in just one hour, with easy soap-and-water cleanup.
Minwax Wood Finishing Cloths are available nationwide at home centers and hardware stores. Find out more at www.minwax.com.