Whether you're sprucing up an indoor space or freshening outdoor trim, ScotchBlue Painter's Tapes give you a perfect edge with professional results. Available in a variety of styles and adhesion levels, they come off cleanly for super-sharp paint lines, indoors or out.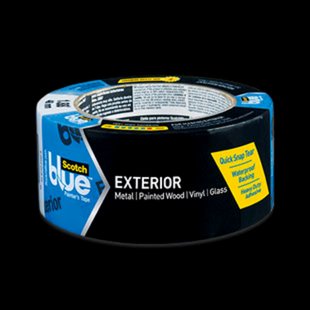 Choosing the right tape is the trick to any painting project, and new ScotchBlue Exterior Painter's Tape is designed specifically for outdoor projects where you face challenging weather conditions including sun, wind, humidity and rain. It offers a quick-snap tear feature that ensures the tape rips at a 90-degree angle, which is perfect for tight corners around windows and doors. ScotchBlue Exterior Painter's Tape also conforms to mask any curve, and removes cleanly with no residue, slivering or tearing. You can remove it for up to seven days from outdoor surfaces like metal, painted wood, vinyl and glass.
For indoor projects, choose between ScotchBlue tapes specifically designed for delicate or multi-surfaces. Look for ScotchBlue Painter's Tapes at home centers, hardware and paint stores, and other mass retailers, and learn more at www.ScotchBlue.com.