For superior energy efficiency and a safer, quieter home, insulate with easy-to-install options from Roxul. Unlike other insulation products, Roxul is made of stone wool, a combination of natural rock and recycled slag. An exceptional thermal insulator, stone wool helps a home stay warmer in winter and cooler in summer, while providing fire-resistant qualities that can make every room safer.
Stone wool was discovered on the Hawaiian Islands at the beginning of the century, and is a by-product of volcanic activity. When it's manufactured, the stone wool combines the durability of rock with the characteristics of wool insulation. This combination makes stone wool an exceptional thermal insulator-it helps your house stay warmer in winter and cooler in summer. That means less energy to heat and cool your house-saving you money all season long.
To insulate exterior walls, attics, crawlspaces and basements, use Roxul ComfortBatt. ComfortBatt provides consistent, comfortable indoor temperatures and energy savings throughout the year, translating into reduced heating and air conditioning costs and a home that's easier on the environment. When properly installed, ComfortBatt saves 128 times more energy than was used for its production, transport and disposal.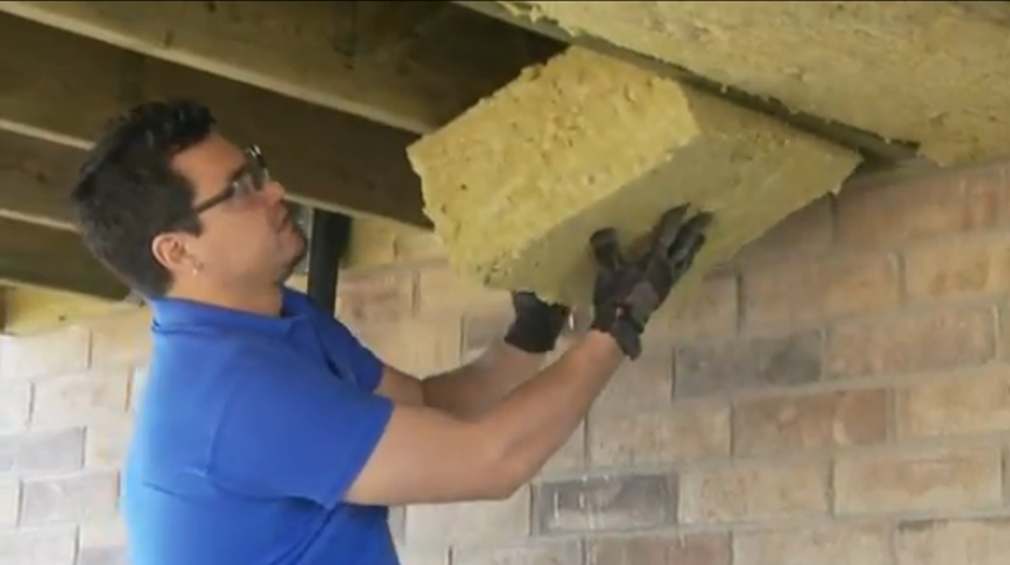 Roxul Safe'n'Sound provides soundproofing insulation for use in interior walls, ceilings and floors. It offers an additional layer of protection and comfort while minimizing noise transfer due to its high density and non-directional fiber makeup. Effectively reducing airflow and sound transmission, Safe'n'Sound is ideal for soundproofing a bathroom, bedroom, home theater, laundry room, nursery or recording studio.
Both ComfortBatt and Safe'n'Sound are fire and water resistant.
Stone wool has excellent fire-resistant qualities that can delay the spread of fire-and during a fire, every second counts. Roxul stone wool insulation is noncombustible and can withstand temperatures up to 2150ºF! Foam and fiberglass insulations melt at temperatures up to a thousand degrees lower, or more.
Roxul insulation repels water, so R-value is not affected. It is also completely resistant to rot, mildew, mold and bacteria growth-contributing to a safer indoor environment. Because Roxul insulation does not absorb water, it will not sag or lose its shape, and will retain its R-value indefinitely.
Roxul insulations are available in bundles that cover up to 60 square feet of space for between $35 and $45, depending on desired R-value and insulation depth. Purchase or special-order Roxul at The Home Depot and Lowe's, and shop for it at local lumber yards. For installation tips, a materials calculator and more product information, visit Rockwool Insulation.