Tom Kraeutler: Welcome to this edition of the Money Pit's Top Products Podcast for the 2015 National Hardware Show in Las Vegas Nevada. About 143 years ago there was a blacksmith working in his shop, and he noticed that sometimes some of the sparks would burn people. He started calling them little red devils, and that's the history of the name of the Red Devil company, and Allan Crupper joins us right now. Alan, you never really did much beyond that in the blacksmith did you?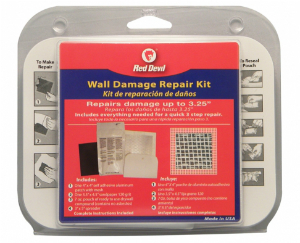 Alan Crupper: No, I wasn't there long enough.
Tom Kraeutler: You look good for your age, 143. Right?
Alan Crupper: Thank you.
Tom Kraeutler: Red Devil is a major manufacturer in the home and hardware industry. They make caulks, and sealants, and all sorts of product that can help you do lots of projects around your house. You guys have a new product out now for wall repair, don't you?
Alan Crupper: Yes we do. It's our wall damage repair kit. It includes everything needed to patch holes in your walls up to 3 1/4 inches. Any kind of a doorknob ding in your wall, or even slightly larger can be repaired just with this one kit. We've really transferred some things over into kit type formatting and packaging for that reason. The convenience of the consumer.
Tom Kraeutler: I think that consumers today want to have a solution, right?
Leslie Segrete: All in one place. All ready to go.
Tom Kraeutler: All in one place, right. Transferring this to a kit, obviously you could have bought all these things separately. You could have bought the wire mesh, and the drywall paste, and all that sort of stuff separately, but having it in one kit gives you that solution. That one stop solution you need to get get your job done.
Alan Crupper: Exactly.
Leslie Segrete: You know what, I think it's interesting, because a lot of people might not even realize that they need the wire mesh. They might just be trying to fill a hole if it's small enough, but really should have the wire mesh. I think by putting everything together, you're arming them with the tools, thus empowering the homeowner who might not have tackled that project in the first place.
Alan Crupper: Absolutely. It might have been overwhelming to them.
Tom Kraeutler: Yeah, and I think that's a great point. A lot of folks don't realize that if you have a small hole, you can cover it just with Spackle, but if you have a large hole, you have to reinforce that first. The mesh is a great way to do that because it gets covered by the Spackle, and then you don't see it when you're all done.
Alan Crupper: Exactly.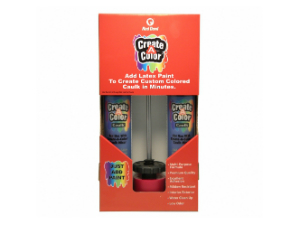 Leslie Segrete: Well, and it has the strength. Now you guys really are all about sort of innovating things that we didn't even know that we needed innovated. It's amazing, your create a color caulk kit. Most people don't even realize that you can change the color of caulk, let alone make it any color you want. Tell us a little bit about this project.
Alan Crupper: Yes, we introduced this last year. The kit actually comes with two special formulated caulking cartridges that you can actually mix house paint into with our mixer that comes with our kit.
Leslie Segrete: Does it have to be a specific finish, or can you use whatever paint you've put on that wall?
Alan Crupper: It can be any finish, but it needs to acrylic based latex paint only.
Leslie Segrete: Okay, but eggshell, high gloss, doesn't matter?
Alan Crupper: Right. Exactly. Then you just mix it in the cartridge itself for about three minutes and put the plunger back in and extrude it like a normal caulking cartridge. It comes out a little bit lighter than the color you want, but when it dries it's exact color.
Leslie Segrete: Just like paint.
Alan Crupper: Mm-hmm (affirmative).
Tom Kraeutler: Well Leslie, as a decorator, I mean that's huge. You spend so much time attending to every little detail, and to have a white line behind a counter top that's a dark granite.
Leslie Segrete: Dark granite.
Tom Kraeutler: Anything like that takes it away.
Leslie Segrete: It really is helpful. It just really kind of unifies and ties in the whole look of a room. Tom you're right, that white line can sometimes stand out, and sometimes clear is even worse.
Tom Kraeutler: Right.
Leslie Segrete: It's a great opportunity to just put that little extra detail into a space.
Tom Kraeutler: What other products are you bringing out soon that you sort of put in that kit format and get people the information to get the job done?
Alan Crupper: We have several other things on the table right now that we haven't discussed, that we haven't really nailed down yet, so I'm not at liberty to say.
Leslie Segrete: Secrets.
Tom Kraeutler: Secrets. Hot secrets.
Alan Crupper: As soon as we do, you'll be the first to know.
Leslie Segrete: We better.
Tom Kraeutler: If you'd like to learn more about Red Devil products, head over to their website at RedDevil.com, that's RedDevil.com.