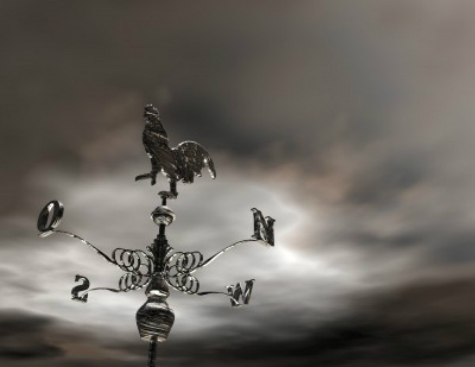 The Atlantic hurricane season has officially begun, and it's expected to be less active than usual. The National Oceanic and Atmospheric Administration has predicted a below-normal season, with six to 11 named storms, three to six hurricanes and up to two major hurricanes (defined as Category 3 or higher.) But despite the relatively quiet forecast, officials are warning people not to be complacent, as strong and devastating storms remain a possibility. If you live in a hurricane zone, there are five key ways that you can prepare now to protect your home and reduce potential damage.
The high winds, flooding and wind-driven rains of hurricane season all pose significant dangers to a structure. To strengthen your home against these threats, focus on the following five storm-readiness strategies, as recommended by the Insurance Institute for Business & Home Safety (IBHS).
First, limit possible sources of wind-borne debris by surveying your home's surroundings and making changes as needed. Consider replacing gravel or rock landscaping materials with something softer, such as shredded bark or mulch. Keep trees well trimmed and remove any weakened sections that might easily break off and fall onto your home. Right before a storm, remove lawn furniture, planters, bird feeders and other objects from your yard. Remember, even seemingly heavy items can become flying missiles during strong hurricanes.
Second, protect all openings from high wind or flying debris damage. Failure of a large window or door can result in pressurization inside your home, and potential damage. Attention should be given to all windows, entry doors, sliding glass doors, and garage doors. Choose permanent window and door protection, such as shutters or roll-downs, or install permanent fasteners so pre-cut shutter panels can be put in place quickly when there's a storm warning. If your garage door isn't pressure-rated, have a bracing system installed to prevent wind from blowing it in.
Third, seal openings, cracks and holes on the outside of your home to prevent water from getting inside from wind-driven rain. Fill holes where wires, cables and pipes enter and exit the house and seal around electrical boxes and circuit breaker panels. Seal cracks around wall outlets, dryer vents, bathroom and kitchen vents, and wall lights.
Next, make sure your roof is ready for the worst. A roof is a building's first line of defense against Mother Nature. A compromised roof can allow high winds and wind-driven rain to enter your home and cause major damage. Your plan of action: use ring-shank nails to double the roof's strength, seal the roof deck to keep water out, re-adhere loose shingles, and ensure all vents and soffits are securely attached.
Finally, ensure your home is tied together. Create a continuous load path in your home, which means tying the roof to the walls and the walls to the foundation. This is important because if the connections between the roof and walls are weak, high wind forces may cause the roof and walls to give way. Once the roof blows off, the entire structure can collapse within seconds. During renovation or construction, have your house tied together with metal connectors, such as hurricane straps, clips or ties.
After its official June 1 start, the Atlantic hurricane season lasts until Nov. 30, with the biggest flurry of storm activity generally coming from late August to early October. But the time is now to prepare your home for a storm by taking steps to reduce the impact of devastating conditions. By focusing on the five areas outlined above, you'll ensure your home has a fighting chance against severe weather.