Does your home have hard water? Water with a high mineral content can cause soap scum buildup, bathtub rings, spots on dishes, dingy or yellowed clothes, clogged pipes, and increased water heating costs.
There are many water softeners on the market, but traditional water softeners have some drawbacks. They require monitoring and frequent salt additions – and are now banned by many municipalities due to the high salinity of waste water.
OneFlow+ Salt-Free Scale Prevention and Water Filtration is designed to reduce scale, sediment, other chemicals, chlorine taste and odors, providing great-tasting water at every tap in a home – without the use of salt. It is environmentally friendly with no electricity needed, no wasted water or drain required.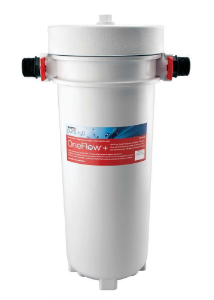 How does it work? OneFlow+ uses a unique technology called Template Assisted Crystallization which attracts and converts "hard" minerals into harmless, inactive "soft" scale particles that flow freely rather than sticking to pipes. TAC technology does not add or remove anything from the water, allowing useful minerals such as calcium, potassium, and magnesium to remain, without the use of salt (sodium).
OneFlow+ also includes a high capacity Radial Flow Carbon Block Filter cartridge with a 20 micron rating, filtering both sediment and chlorine taste and odor, providing great-tasting water throughout the house and improving the taste of ice, coffee, tea, and other foods and beverage prepared with your water.
OneFlow+ is easy to install, and with no salt to monitor or replenish, it's virtually maintenance-free! With its compact design, OneFlow+ can be installed on a floor or mounted to a wall with the included mounting bracket. The high-capacity yet compact cartridges require no measuring or monitoring and are very easy to replace every 1 to 3 years.
Without the need for salt replacement or the electricity required of traditional water softeners, OneFlow+ can save an average 4-person household up to $300 annually (based on a typical water usage of 75 gallons per person each day).
OneFlow+ can also save you money in other ways. As water flows through the OneFlow+ Scale Prevention Cartridge, particles that cause scale build-up are prevented from sticking to pipes, fixtures and appliances. Eliminating this buildup not only improves water flow, but also helps improve appliance efficiency and extend the life of appliances.
OneFlow+ retails for $599 and is available at HomeDepot.com, Menards and Amazon.com.