Read Transcript

TOM: Making good homes better. This is The Money Pit Home Improvement Show. I'm Tom Kraeutler.

LESLIE: And I'm Leslie Segrete.

TOM: Well, guys, now that the weather has started to cool off, it is the perfect time of year to improve your home's insulation. Now, let me tell you, after spending 20 years as a professional home inspector, I can tell you that most homes do not have nearly enough.

LESLIE: Yeah. And that's so important because adding insulation is the single best way that you can reduce both your heating and your cooling bills all year long.

TOM: And that's why we are so pleased to welcome our next guest. Nick Bramwell is the merchant for insulation at the Home Depot, and he's responsible to make sure their stores are stocked up and ready to go for the fall season ahead. Welcome, Nick.

NICK: Hey, thank you, guys. Thanks for having me on. Hey, having enough insulation is really key to a comfortable home. But in all the years I spent walking through attics as a home inspector, it's really surprising how many just don't measure up.

TOM: I mean, not only have insulation standards changed, so we're requiring more today, but a lot of old insulation will settle and SAG, and it just doesn't do a very good job insulating anymore. I don't think it's a product that people think of as something that wears out like a roof. But the truth of the matter is, it does, and it needs to be updated from time to time, right?

NICK: That's right. I mean, I think the stat is 90% of homes in the country are under insulated. And if you think about it as a homeowner doing DIY remodel projects, you may only do this once or twice in your life.

So, not something that's top of mind, but should be top of mind, because ultimately, it actually affects your comfort level every single day because it helps maintain the temperature to be comfortable in your home

LESLIE: Yes, and then it also really affects your wallet. So, if you're not paying attention to what these costs are and how you can fix them, it can really do some damage. But you guys are definitely helping here. So, now you've partnered with Owens Corning for batt and loose fill insulation, and there's a number of innovative new products that are available now for both DIYers and pros that really make adding this insulation easier than ever.

PINK Next Gen Fiberglas Insulation

LESLIE: So, let's first talk about the PINK Next Gen Fiberglas Insulation.

NICK: Sure. It's a great product.

LESLIE: Well, I think so many people are just fearful when they start to think about, like, installation project, I better get on a hazmat suit and worry about it for the rest of my life. And how do I do it? What do I do? I think people just don't always think of this as a DIY project. So, what are you doing with the pink next gen to make it so?

NICK: Well, that's a great question. So, you're right. There was a time when installation was thought to be itchy and just hard to work with something you would have voted with a ten-foot pole, right?

Next Gen from Owens Corning. It's a new product technology that's come out in this last year. It actually does a couple of things. The first thing for the homeowner or the DIY is it's softer than ever before. In fact, when I demo this in my stores for associates, I'm rubbing it on my face. I wouldn't recommend it. It's not going to be something you want to get in your eyeballs, obviously, but hey, this stuff is softer than ever before. And the way they manufacture it, they've changed it over the years and gotten so much better with it and it's easier to handle.

But beyond that, because it's so stiffer than in years past, with this new formula in Next Gen, it actually helps you cut more precisely and then when you install it in the cavities of the wall, it's going to have a higher friction against those studs. So, what that means for the installer, it's going to save about 20% to 25% of time usually that you would use to install to get it just right. So ultimately what this means for us as DIY home improvement remodelers, you might say, is it's going to save you time and it's going to be easier than ever before.

So, it doesn't happen very often in a category like this gets innovation, but when it does, it means a lot. So, saving time and money, we're all about that.

Thermafiber Fire & Sound Guard Plus

TOM: It's really amazing. Now, aside from PINK Next Gen, you are also featuring Thermafiber Fire & Sound Guard Plus

Now this is insulation that I actually am using right now, Nick. I have an old house. It was built in 1886, so it's like 136 years old and I use this product for my entire first floor. I did it for a couple of reasons. I loved the fact that it was fire resistant. I love the fact that it gave me some sound insulation. And frankly, it was really easy to work with in an older house because it was stiff. I was able to cut in between the old pipes and the wires and all that sort of thing. And man, what a huge difference putting this in made to our comfort level. And that's the thing about insulation, you don't have to wait to feel a result. You feel it the next day.

NICK: Oh yeah, for sure. I mean, on average you can save 15% of your energy bill because it just improves the efficiency of your heating and cooling in the home. And it's not that hard to do. The mineral wool is pretty cool. It's a different original commodity. So, while fiberglass comes from sand and the different commodities for glass, mineral wool is typically a rock or steel flag offshoot. So, it's produced the same way. But you called out the acoustic insulation, which it's true, has superior acoustic insulation. You also called out the heat resistance. My favorite value and benefit of the mineral wool versus the fiberglass is actually the moisture and mold resistance.

And here's why that's important. So, anyone that's ever flooded their basement, they know how much the hassle it is to rip up your carpet. And if it's above your baseboards, you're going through and cutting out all that drywall and ripping up all that fiberglass insulation in the wall and replacing that as well. What's great about mineral wool is it's more resistant to moisture and water than fiberglass. In fact, unless it's like a drastic flood, you can typically let this stuff dry out and it will retain its shape, which means you actually don't have to replace it.

So, for people who are concerned about that, it's an added value and benefit for going the mineral route.

TOM: That's a great point.

LESLIE: Yeah. Nick, I think it's so important to think about how we're all using our homes so differently in the past almost three years, which I can't even believe I said almost three years, but it's bananas because our homes have become so multipurpose, and you really have to think about finding areas of quiet. And so, this is extremely helpful in how we're all now living at home. That's right.

NICK: So, for customers or remodelers who are trying to improve their space, for example, I myself am putting in a home office at my house because the dynamic of work from home has changed. Right. So many people are doing the same thing, whether it's their garage or converted attic space, or maybe it's in the basement. But guess what? We got busy families, too. I got kids running around, dogs barking in the background. So how do you make sure that space is a little more comfortable and insulated from the surrounding noise? This Thermafiber product from Owens Corning. It really does help to improve the acoustic insulation.

Owens Corning Thermafiber Fire & Sound Guard. Plus offers a wide variety of proven benefits for both residential and commercial applications.

So, around the house where you might think about using thermal fiber or mineral product would be typically in a home office, a nursery. You could use it in areas where there's a thermal resistance factor as well. So, for example, around a new fireplace, you're putting in that new electric fireplace or gas flu fireplace. That would be a great application behind that or even behind the range hood behind an oven.

So, there are specific points in the home where this makes a lot of sense and drives a lot of value for the consumer.

TOM: We're talking to Nick Bramwell. He is the merchant for installation at the Home Depot. And Nick, you know, it always amazes me that we think so much about insulating our homes as it gets colder out. But truth be told, insulation is important year-round and actually will save us an awful lot on our cooling bills. We're just coming off a very hot summer. We had a couple of pretty major heat waves here. And if it weren't for the good insulation than I had in my home, I know my cooling bills would have been a lot higher.

NICK: Yeah. This is actually the number one cost versus value item you can do in a new home. In fact, you'll recoup about 117% of the cost of doing this project based on your energy bills. If you save 15% of your energy bill every month, you can see how you immediately would pay that back.

Atticat Blown-In Fiberglass Insulation

And here's how easy it can be. So, if you go to Home Depot, you can go and get AttiCat or this loose filled fiberglass insulation. If you buy ten bags or more, you're going to be able to get the machine rental to blow that into your attic for free. And what that's going to allow you to do is top off your current installation. Or you can add new insulation if your home doesn't happen to have any. You'll immediately save money from your energy and cooling bills. It's a matter of day one as soon as you're done with the project. It's really a no brainer. The value there is just easy to understand for homeowners when you think about the energy savings.

TOM: You know, it's amazing. We're going in the fall season now, and when it starts to turn cold, especially when our first heating bill show up, right. People start to think, insulation, insulation, insulation. But it's really important year-round.

NICK: That's right. We often think about this in the winter months when it starts getting cold and drafty. On average, every home has about a quarter mile of gaps or cracks or like drafty spaces in their home. And all that is letting air in or out. So not only in the cold months, but also in the warm months, too.

I often say when we're doing loose fill or batch and rolls any type of insulation around the house with fiberglass, not a bad idea to grab a couple of cans of spray foam. We carry brands like Great Stuff from Dupont or Loctite Spray Foam. It's a couple of bucks a can. You seal up some of those gaps and cracks around the spaces that you're working on and really limit the air that comes in and out.

When you're talking about loose fill, for example, you want to make sure you keep that ventilation open in the attic so you can't forget about those baffles, too. So, installing the baffles near your soffits and even making sure that air can move upwards along your roofline is really important as well. But all in, this is a year-round project that really will keep your home comfortable. And again, it hits your wallet every single day because it will save money on the energy bill up to 15%.

TOM: It definitely is the best return on your remodeling dollar. Nick Bramwell from Home Depot. Thanks for stopping by The Money Pit, Nick. Thanks for helping us transform our houses into warm and cozy spaces for the chilly days ahead.

NICK: Hey, I appreciate it. We love what we do. We love working on the home. Thanks for having me, guys.

TOM: That's Nick Bramwell from Home Depot. If you'd like to learn more about all the great insulation and weatherization products offered, head on over to HomeDepot.com.

It's a great time to get your house updated and insulated for the chilly weather.
Why Insulate?
Re-insulation is a fast fix with an instant payback! It's a project that can be completed in a weekend and result in an immediate uptick in comfort. Rooms that were formerly cold and uncomfortable, are left feeling warm without the need to bump up the thermostat to get there. Consider that:
90% of homes are under insulated
A Boston University study revealed that 90% of homes are under insulated, as reported by the North American Insulation Manufacturers Association. "Under-insulated" here means when compared to the minimum prescriptive wall and ceiling insulation R-values found in the 2006 International Energy Conservation Code (IECC).
Save money on your energy bills.
The EPA estimates that homeowners can save an average of 15% on heating and cooling costs by air sealing their homes and adding insulation in attics, floors over crawl spaces and accessible basement rim joists.
Help avoid major issues like ice dams in the winter.
When snow melts and refreezes on the edge of the roof, it creates an ice dam which can cause water to leech back into your home and into your attic or walls. Proper air sealing and attic insulation helps deter the conditions that lead to ice dams and potentially costly repairs.
The best return on your remodeling dollar.
Fiberglass attic insulation outperformed all other home improvement projects in Remodeling magazine's "Cost vs. Value" Report, with homeowners recouping 116.9% of the cost in added home value.
New Insulation Products Offer Wide-Ranging Benefits
Whether your goal is to stay warm and comfortable during the heating season or keep cool in the Summer, the big energy saver is insulation. With PINK Next Gen Fiberglas Insulation and Thermafiber® Fire & Sound Guard™ Plus Insulation from Owens Corning, you can do both. Both products are a great complement to each other for any retro-fit or new construction applications.
PINK Next Gen™ Fiberglas™ insulation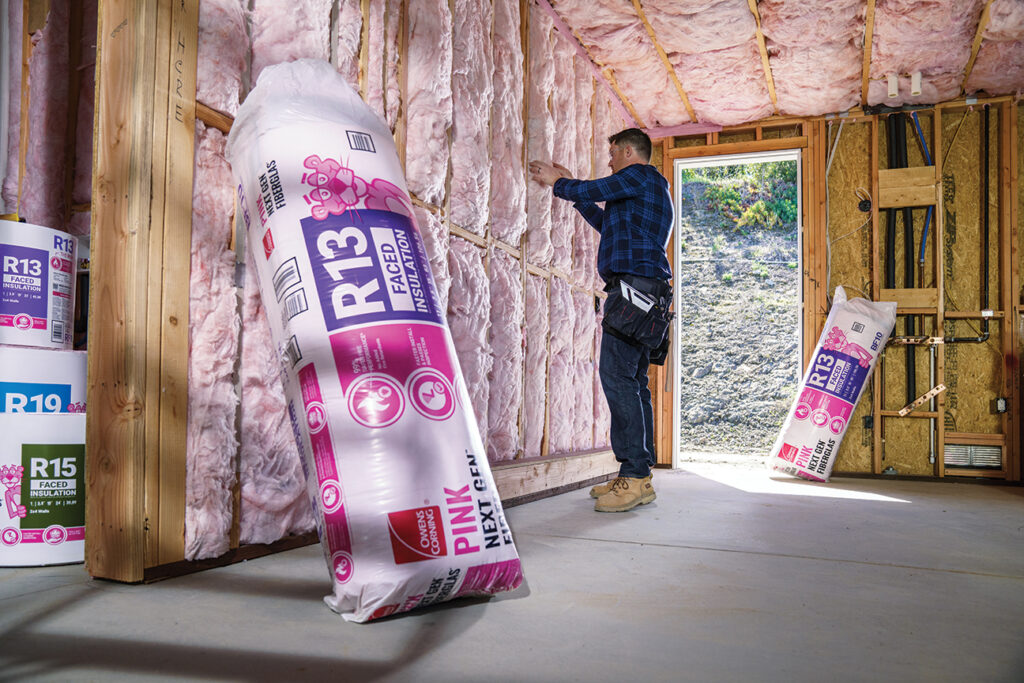 Owens Corning® PINK Next Gen™ Fiberglas™ insulation is made with advanced fiber technology for next generation comfort.
Proven thermal performance and noise absorption.
Feels as soft as cotton, so it's soft but also strong.
Recovers quickly right of the package – glides easily into wall cavity; fits snugly.
Safe ingredients – no formaldehyde, fire-retardants or harmful chemicals.
Up to 23% faster to install than before
Visibly superior texture and smooth, uniform surface passes inspection easily; gets the job done faster and more accurately.
Thermafiber® Fire & Sound Guard™ Plus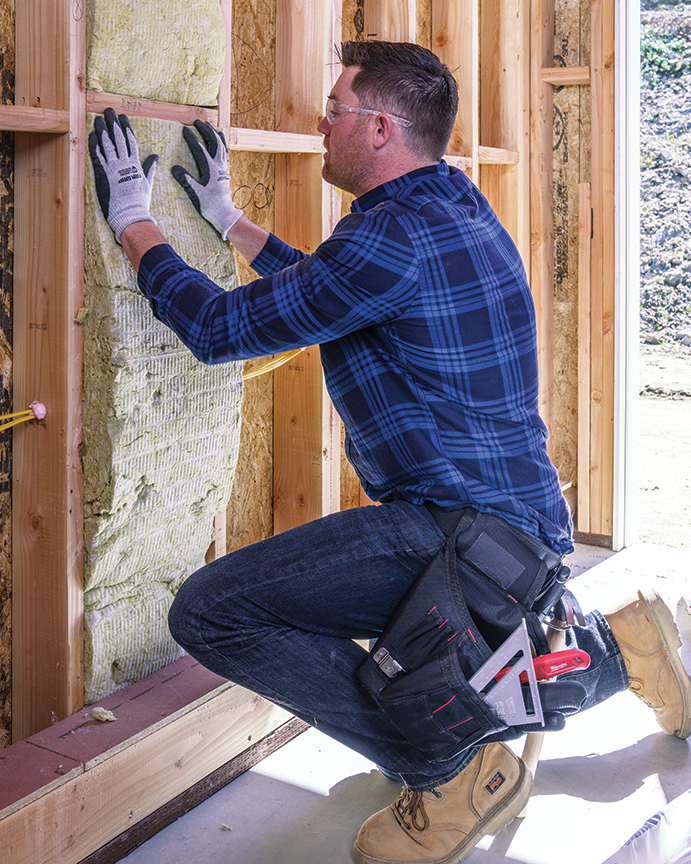 Thermafiber Fire & Sound Guard Plus is designed to provide excellent thermal insulation, fire resistance and noise control in residential and commercial construction.
Easy to cut with a serrated knife around pipe fittings, boxes and wiring.
Non-combustible, moisture-resistant, non-corrosive, non-deteriorating.
Great for residential and light commercial interior and external walls, ceilings, basements and crawl spaces.
Flexible so just squeeze and insert and naturally expands to fill the space for a custom fit.
Fire resistant to temperatures above 2000° F (1,093° C)
Helps control moisture to prevent mold
Standard thicknesses are available with an optional vapor-retarding foil facing.
Available in standard widths for both wood and steel stud framing.
You can find any of the Owens Corning insulation products, loose-fill for the attic or roofing needs and accessories at Home Depot stores or on HomeDepot.com