Green living ideas and easy do-it-yourself solutions are high on homeowners' shopping lists, and a range of products that fill the bill at the National Hardware Show. Here's a list of my favorite products offering value, sustainability and at-home comfort.
Great values for landscaping projects
Handling your own landscape maintenance is a smart way to save money, and you can add value with an arsenal of durable, dependable tools for every task. Lifetime Products gets projects moving with its new
Yard Cart
, a heavy-duty wheelbarrow that converts to a towable yard trailer in a matter of seconds. It's easily towed behind any lawn tractor, can carry up to 650 pounds and keeps yard and gardening supplies easily accessible with its molded tool holder. What's more, the Yard Cart is made from 100 percent recycled material, giving you a sustainable start to dealing with the green around your home. Get rolling with a visit to
www.Lifetime.com
or your local Sam's Club store.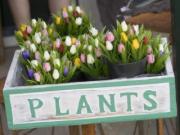 Trimming tasks can be hard on a gardener's hands, so the ergonomic design of True Temper Bypass Pruners is a welcome way to reduce hand fatigue and increase control. The two models are designed to fit a range of hand sizes, with the smaller pruner featuring 5/8-inch cutting blades and a smaller eggplant-colored handle and the larger size offering longer chili-pepper-red handles and a ¾-inch cutting capacity. Both incorporate the innovative Total Control ring for superior leverage through the index finger, and lightweight cast aluminum handles with comfort grips for ease. True Temper Bypass Pruners are also long-lasting additions to your garden tool arsenal thanks to high carbon steel blades, a unique internal spring that's protected from clogging by dirt and debris, and a special locking mechanism that allows for safer handling and storage. Look for these comfortable, dependable pruners at your local
Lowe's
store.
A safe staycation in your backyard
Many of the most enjoyable, relaxing escapes of summer take place in your backyard oasis, but uninvited guests like wasps, hornets and yellowjackets can disturb the peace and pose a threat to those allergic to stings. Stop the comings and goings of airborne pests with the
W-H-Y Trap from Rescue!
which catches 21 species of wasps, hornets and yellowjackets. This backyard miracle is designed to give insects two ways in but no way out, and uses an attractant with naturally-occurring ingredients rather than poisonous chemicals. No extra food bait is needed, and the local honeybee population won't be lured by the attractant. Post durable WHY Traps in your yard in spring to catch wasp, hornet and yellowjacket queens before they build nests, and keep the traps up through summer and fall to capture foraging workers when they're most likely to sting. WHY Traps are available at Home Depot, Lowe's, Ace Hardware, True Value Hardware, Wal*Mart and most places where lawn and garden products are sold.
Water savings with performance
Being water wise can save you money, and installing a
Filtrete Under Sink Water System
is one way to trim down on bottled water waste and enjoy dependable water quality. DIY and easy to install, it removes sediments and chlorine taste and odor from your water, with each simple-to-replace Filtrete filter lasting for up to six months or 2,000 gallons of water. Unlike tap attachments or pitchers, Filtrete Under Sink Water Systems use your existing faucet to maintain full flow without that "drip, drip, drip" annoyance. Sand, soil, rust and sediment are reduced, and the professional filtration model is also certified to remove parasitic cysts. Visit
Filtrete online
, Lowe's or your local hardware store for more scoop on this smart water filtration system.
You can also create quality and conservation in the bath with Moen's new
Nurture
water-efficient, multi-setting shower heads. Using 30 percent less water than standard showerheads, the fixed and handheld models deliver full-body coverage and superior performance with an optimized spiral-pattern spray that flows at 1.75 gallons per minute. A lever spray selector allows easy selection from three distinct settings including a "Relaxing" wide spray, "Invigorating" concentrated spray and "Refreshing" combination spray. Nurture shower heads will be offered in a Chrome finish with a limited lifetime warranty at Lowe's.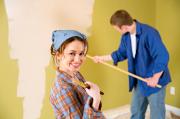 Brushing up the health of your indoor environment
In an industry first,
Dutch Boy's Refresh interior paint
allows you to brush on a VOC-free new look with ongoing air quality protection. Formulated with exclusive Arm & Hammer odor-eliminating technology, every Refresh shade works to capture, remove and lock common airborne household odors into the paint's film. It's also a mildew-resistant coating that's independently
GREENGUARD
certified. Shop your local home improvement retailer for the complete palette of Dutch Boy Refresh colors.
Sharing DIY skills with the next generation
You can train your home project team while building the DIY skills of young helpers with "quality time in a box" offered by
Red Toolbox
. This kit-based program is designed to increase a child's abilities and confidence through three discrete skill levels, starting with very simple tasks for the beginner such as gluing and hammering and progressing to more advanced techniques like precise sawing and filing. In the process, parent and child have fun working together and create useful, decorative items that make great gifts in themselves.
Click here
to check out Red Toolbox project kits available for each skill level, as well as workbenches and other gear.