If you are planning a home remodeling, repair or construction project and need an adhesive, you know that when you walk down the aisle of your hardware or home center, there can be literally dozens to choose from. Liquid Nails Fuze*It is a better solution. It's an All Surface Construction Adhesive featuring hybrid technology that bonds virtually everything to everything in almost any condition.
Liquid Nails Fuze*It creates a durable, flexible bond that is two times stronger than fasteners alone and can be applied inside or outside to wet or dry, porous or smooth surfaces and withstand hot and cold temperatures. It offers instant grab to save time and it bonds in any weather condition. You can even apply it on the most water-drenched surfaces.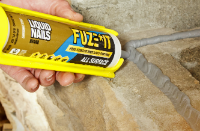 Liquid Nails Fuze*It delivers an instant, water-resistant bond. Liquid Nails Fuze*It has the ability to withstand temperatures as low as -40 degrees F and as high as 300 degrees F. It comes with a detachable nozzle for easy cleaning for reuse. It's also low VOC and low odor, and is certified by UL Environment to meet the GREENGUARD GOLD Standard as a low emitting material.
Liquid Nails Fuze*It is recommended for use on nearly all surfaces, porous or non-porous, wet or dry, including glass, metal, ceramic, granite, mirrors, wood, marble, rubber, laminate, tile and foam. The only substrates Liquid Nails Fuze*It will not bond are polypropylene and polyethylene.
There's no need to be overwhelmed by the multitude of choices in the adhesive aisle of your hardware or home center. Liquid Nails Fuze*It takes the guesswork out of selecting an adhesive with the ability to bond almost everything to almost everything else. It retails for $6.97 and is available exclusively at The Home Depot. For more information, visit www.liquidnails.com/fuzeit.