iQ offers a green way to clean your home without the harmful chemicals, packaging waste or carbon footprint of other brands. Conventional cleaning products are 95 percent water and five percent solution, leading to shipping expense that's saved the iQ way by using your own tap water.
With iQ's patented REFill®technology, you simply fill the reusable iQ bottle with tap water, drop in the no-mess REFill cartridge, twist on the spray-trigger cap to dispense the non-toxic concentrated iQ cleaning solution, and start cleaning. This tap water activation reduces the carbon footprint of iQ for a price that's 25 percent lower than other cleaners.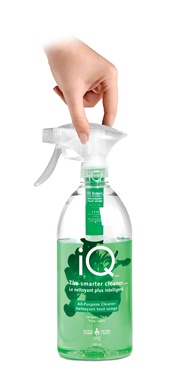 iQ non-toxic cleaners are made from plant-based, ecologically sustainable ingredients, and third-party tested against leading traditional cleaners for proven performance that's 100 percent guaranteed. The line includes All-Purpose Cleaner, Glass Cleaner and Bathroom Cleaner, available in light fragrances like Green Tea, Bamboo Berry and Nectarine Plum.
iQ cleaning products are available nationwide at Drugstore.com, Alice.com and grocery retailers. Improve your green cleaning iQ by visiting www.iqclean.com for more details.