Fall is the best time to tackle home improvement projects that can winterize your home by making it more comfortable and energy efficient for the winter season.
While most people make sure their cars are in good shape for the winter, many don't appreciate the value of the same type of maintenance for their home.
For the most part, a few easy fix-ups can lower your home's energy needs and avoid big — and expensive — headaches down the line. Here's where to start:
Exterior walls: Before winter's frigid drafts sneak in, check all your windows and doors for loose caulk or deteriorated weather stripping. Repair or replace it. Weather-stripping and caulk is inexpensive and easily found at your local hardware store. While you're there, look for electric outlet and switch gaskets. These cost just pennies but do a good job of stopping drafts that sneak in around these "holes" in the exterior walls.
Heating systems: Don't wait for winter before having your heating system serviced. Make sure it's cleaned, adjusted and checked for safe operation by a competent professional. After that, make sure to change filters regularly throughout the winter. Also, consider purchasing a "set-back" thermostat and use it. This can save big heating bucks by automatically turning down the heat when no one is home or everyone is sleeping.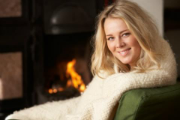 Fireplaces: Nothing beats a warm fire on a chilly night. But first step to winterize your fireplace is to make sure the fireplace is safe. Have the chimney checked and cleaned by a certified chimney sweep. Repeat this process for every cord of wood burned or at least once every other year.
Water heaters: To make sure your water heater runs efficiently, have it wrapped with an insulating blanket. Also, if your heater is electric, save on heating bills by having a timer installed that heats water only when you need it. A timer can turn off the water heater in the middle of the night and bring it on again in plenty of time to heat the water for morning showers.
Attic insulation: 80% of your home's heat escapes through the ceiling, and insulation is the key to cutting this energy loss. Try to shoot for an insulating value of R-19 to R-30 in the attic. (Every inch of insulation gives you a value of about 3 "R". Six inches of fiberglass insulation is R-19.). Also, winterize the attic hatch with weather-stripping to stop the home's heated air from escaping to the attic.
Safety first: Winter also marks the start of the fire season. Installing at least one smoke detector and one carbon monoxide detector per floor protects your family. Also, be sure to pick up at least one fire extinguisher and mount it in an easily accessible place. Extinguishers rated "A-B-C" will work for all types of fires.
Following these few fall maintenance tips will help to winterize your home and ensure and reward you with comfort and energy cost savings.