If your home has had an outbreak of mold, you might be tempted to turn to bleach to get rid of the mold stains. But bleach has its drawbacks – it doesn't work against mold on porous surfaces, and it's also toxic.
A better option is Concrobium Mold Stain Eraser. This powerful cleaning solution targets tough and embedded mold and mildew stains without bleach or harmful chemicals.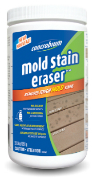 It restores both indoor and outdoor surfaces to like-new condition, and is perfect for black mold stains.
Concrobium Mold Stain Eraser is ideal for a wide variety of applications, such as decks, patios, fences, walkways, railings, siding, gutter, roofs, tile, showers, bathrooms, basements and outdoor furniture. It works on an extensive number of surfaces, including wood, composite wood, concrete, masonry, drywall, grout, stone, fiberglass, tile, plastic, laminate, aluminum and metal.
Fight mold like a pro with Concrobium Mold Solutions. You can find Concrobium Mold Stain Eraser at home improvement or hardware stores, or visit CureMyMold.com to learn more.