Table of Contents

[Hide]

[Show]
Rooms with water always have the potential to contain mold growth as well as odors: concerns for any indoor air quality professional. Some of the sources of these problems also fall within a home inspector's realm. In this article, I'm going to discuss sources of indoor air quality problems that could be present in kitchens and pantries.
Refrigerators
If your client will be "inheriting" the refrigerator, the condensate (drip) pan (at the bottom or behind a panel in back) may contain microbial growth.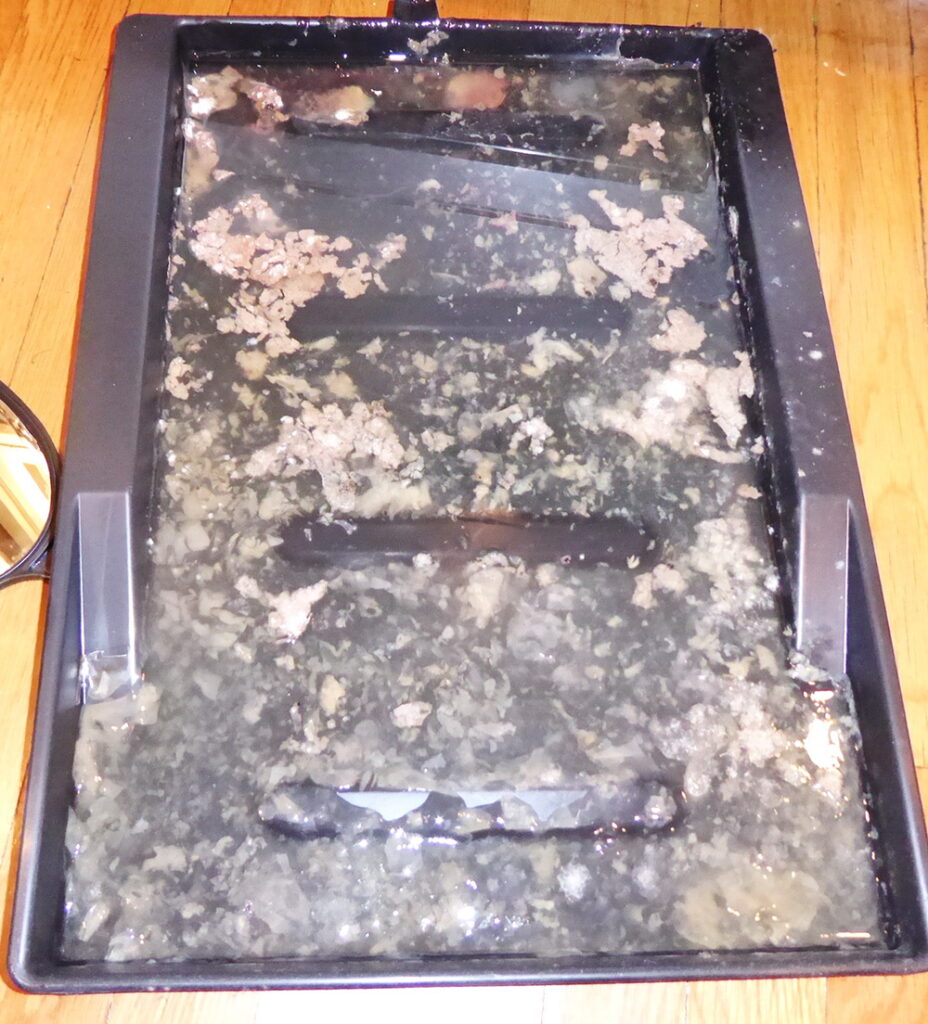 Then when the refrigerator compressor turns on, room air that is drawn over the coils to dissipate the heat blows over the pan to evaporate the water. This airflow will carry byproducts of this growth in the pan into the room. Sometimes, too, a water line leading to a refrigerator dispenser/ice maker can leak. Look carefully around the appliance for visible signs of such leakage.
Advice to give your client: Have the condensate pan checked and cleaned as needed. At the same time, the coil should be cleaned. Keep the area at the bottom as well as at the sides and back of the appliance clean.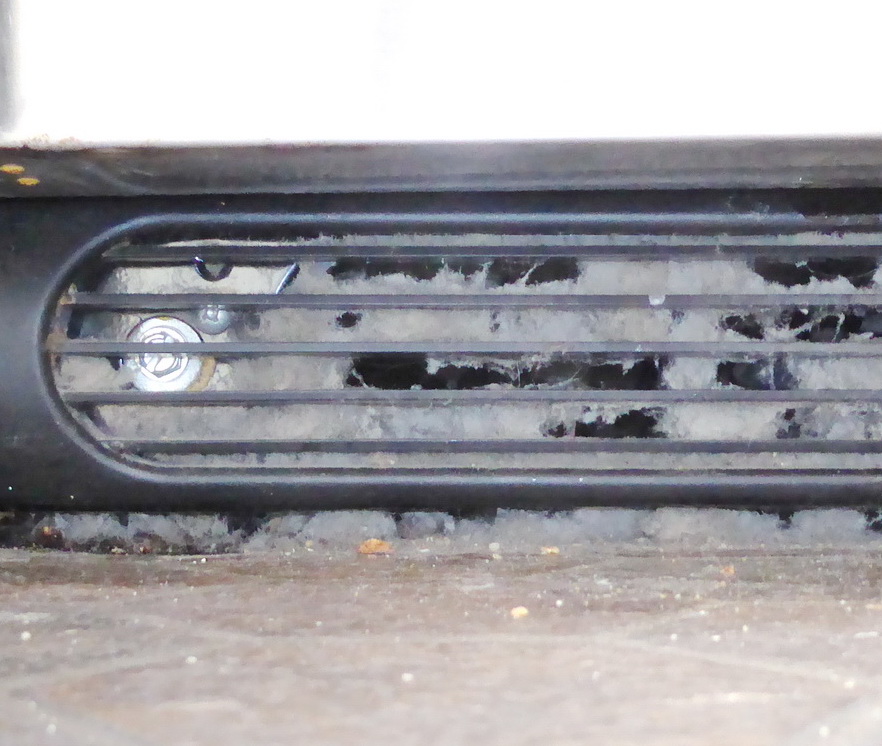 Case study: Water from a refrigerator leaked between the flooring and the plywood subfloor, causing decay in the kitchen and even the adjacent dining room. Both floors had to be replaced.
Stoves
Consider checkinga gas stovetop and oven for possible leakage. A TIF8800X gas detector is an excellent tool for this purpose. You could also check to see if the spark ignition coil is operating properly. Older gas stoves can produce significant amounts of CO. If there are minor gas leaks at the stove, the hot flame thermally decomposes the gas/air mixture to produce excess CO.
Case study: I used a TIF8800A to find a leak in a gas pipe that turned out to be inside the wall cavity behind a stove. The pipe had been leaking for years because the house had settled significantly, stressing the hidden piping. The owner called the gas company; someone came and immediately shut the gas off to the house. The owner's chronic headaches were alleviated after the leak was fixed.
Advice to give your client: If a gas stove is present, have a CO detector in the kitchen.

Kitchen Exhaust Fans
Steam and smoke produced by cooking can create indoor air quality problems, so always recommend stove exhaust fans. Such fans should have squirrel-cage blowers rather than propeller fans (the latter do not have adequate capacity) and should always vent to the exterior.
Tip: You can use a simple toy called a "Wizard Stick" to test for airflow, not only in kitchen exhaust fans but also in bathroom exhaust fans. Wizard sticks produce non-toxic "smoke" and are available on line (ZeroToys in Acton, MA – 978-371-3378; www.zerotoys.com).
Leaks
Look for evidence of a long-standing leak around the faucets, behind the backsplash, or in the piping in the cabinet beneath the sink (use a mirror and flashlight to look at the bottom of the countertop under the faucet). Sink sprayers can also leak from the fitting in the handle. Then mold growth can occur in the cabinet or the wall behind the cabinet. Check in front of refrigerators and dishwashers for stained and/or warped flooring. Use a flashlight and mirror (you may need an extension mirror) to check behind washing machines.
Advice to give your client: To keep an eye out for leaks, don't store a lot of goods under a kitchen sink. Keep stored goods in bins so that they can be easily removed. Dry all around the sink and the counter at the sides of the sink after running the water.
Tailpiece Corrosion
Most sink drains have brass tailpieces, often with a sidearm for the dishwasher discharge. The detergent-containing water from the discharge can be corrosive. White spots can be a sign of severe corrosion (dezincification or loss of zinc from the copper and zinc alloy) and weakening of the metal. The force of water could cause the tailpiece to break and cause flooding under the sink.
Advice to your client: Keep an eye on the brass tailpiece; any white spots could mean corrosion and the piece may need to be replaced.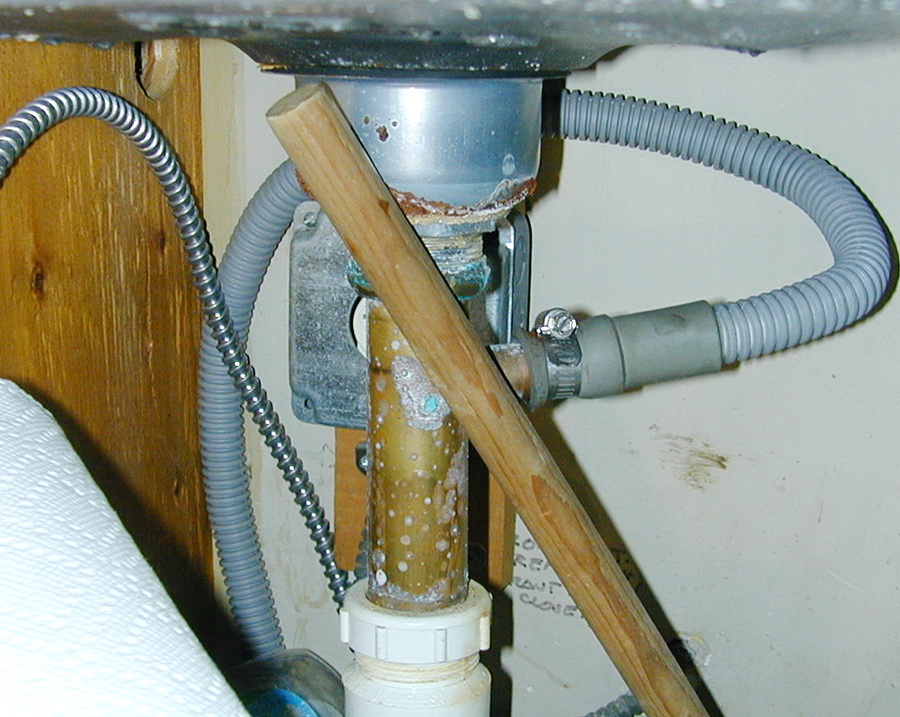 A Kick Space Heater
This space may contain food bits, mold growth, and mouse droppings. Sometimes holes for piping to the heater are open to a moldy basement and thus its supply air can contain spores.
Advice to give your client: There should be access to the heater for cleaning, and there should not be any gaps in the flooring or around piping that would allow basement air to flow into the kick space. There should be an opening to bring in return air from the kitchen.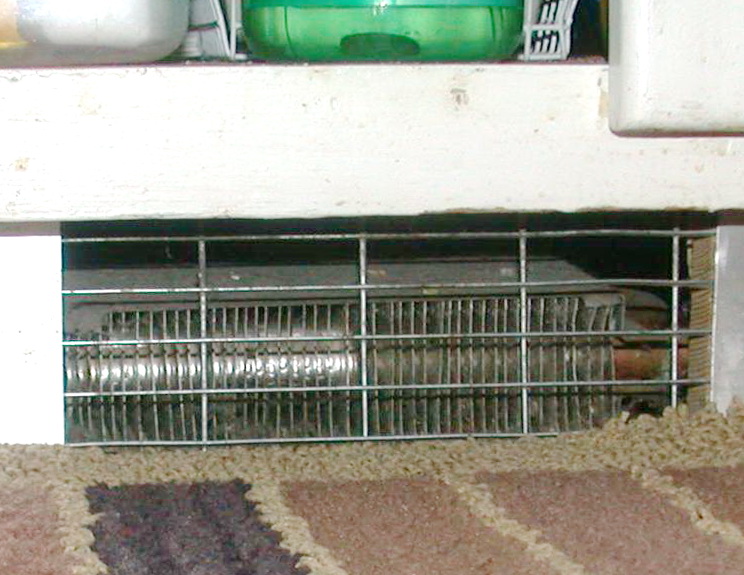 Kitchen-Cabinet Kick Spaces
Cabinet kick spaces collect dust and pet dander that can get moldy when the kick plates are dampened by floor mopping or spilled food or liquids. You can check for mold growth by shining a flashlight at a glancing angle across a kick plate. (If you do not report on the possible presence of mold in your inspections, you could just recommend that the surfaces under the cabinets be cleaned.)
Advice to give your client: Periodically vacuum kick spaces and damp wipe kick plates.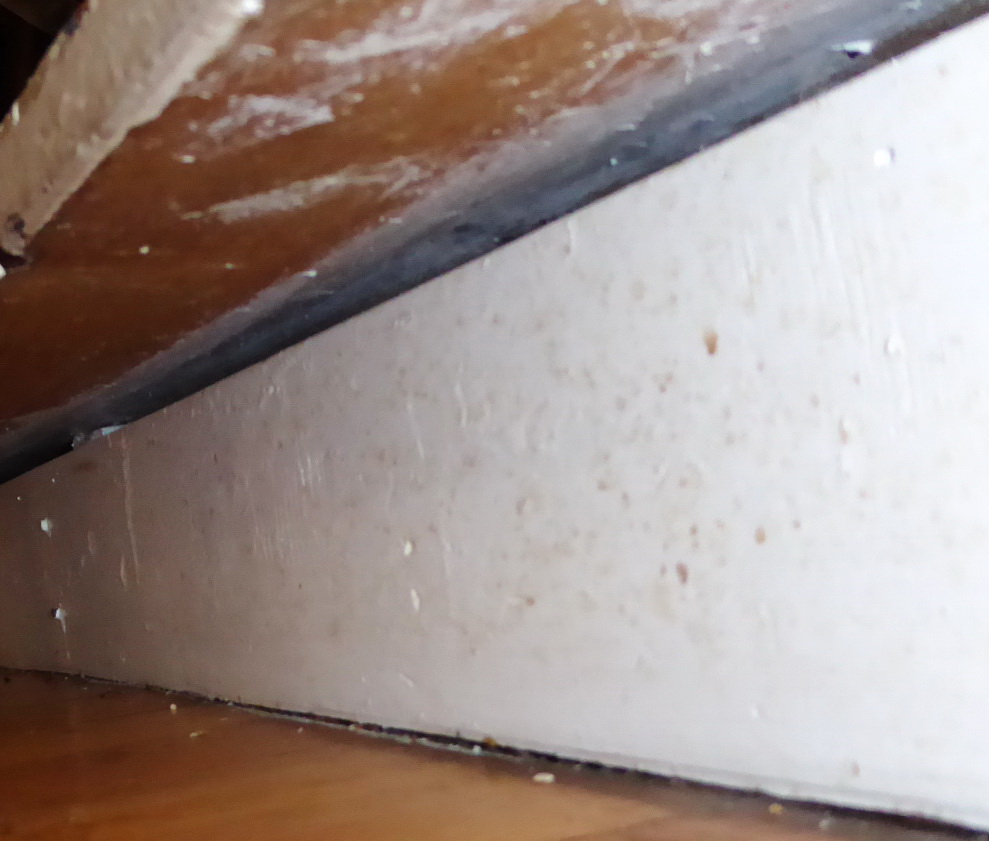 Pantry Pests
Pests like mice, ants, flour moths, and even storage beetles produce allergens and may be present in a pantry. Body parts and fecal material from any of these pests can infest stored foods. If you do pest inspections, don't forget to look for signs of such infestations. If you don't include pest inspections but see signs of a pest infestation in a kitchen pantry, it's sensible to recommend that your client have a pest inspection.
Flour moths are small and greyish brown in color, and their larvae live on grains such as cereals and flour, as well as on baked goods like cookies and crackers and snack foods like nuts and raisins. They often leave threads of insect silk hanging from pantry surfaces and inside stored goods.
Advice to give your client: Keep grains and cereals in tightly lidded plastic bins. Look carefully around the exterior for any openings or gaps that could be rodent pathways and seal these with mesh and foam, wood, masonry, or copper wool as appropriate (copper wool will not rust the way steel wool will).