The area under second-story decks can be a dark, wet wasteland. But installing an underdeck ceiling made from lightweight, easy-to-install corrugated fiberglass panels is an inexpensive solution you can knock out over a weekend.
Here's what you'll need to take on this project:
TOOLS & MATERIALS
Quick Square Tool
Combination Square
Tape Measure
Miter Saw
2x4s
Two 1/2″ Ceramic Deck Shoes
Mason's TwineChalk Line
1″ Galvanized Wood Screws with Neoprene Washers
Circular Saw with Fine Toothed Blade
Corrugated Fiberglass Panels
4 or 8-Foot Level & Torpedo Level
Gutter Screws
Table Saw (if needed)
Plastic Gutter (if needed)
Gutter End Caps (if needed)
Gutter Downspout (if needed)
When taking on this DIY task, be sure to equip yourself with the proper safety gear. Throughout the video, we'll let you know when you should and should not use the safety gear.
STEP ONE
Lay out purlin locations. You'll start by laying out your new ceiling's purlin locations. Do this with a tape measure, marking the bottom of each joist every three feet.
Your ceiling should pitch a quarter inch per foot. Some decks are built with a slight pitch, so be sure to check along the length of your deck joist with a four– or eight-foot level to determine the pitch before you begin.
As you measure, think about where you might add gutters. Most raised-deck designs feature joists cantilevered over a beam. If you decide to install gutters, the beam provides a convenient place to attach gutters.
Keep in mind that your ceiling panels should overhang your gutters by about an inch. Purlins are horizontal beams that will support your ceiling.
STEP TWO
Cut purlins. Measure the width across your joist at each mark to determine the length of each purlin. Your first purlin will be three feet from your house.
Rip it on a table saw to 3/4ths of an inch by one and a half inches. Then, cut to length with a miter saw. Continue adding 3/4ths of an inch every three feet. Confirm and cut the length of each piece across your joists.
If you're adding gutters, be sure to leave space for them when installing your last purlin.
STEP THREE
Install purlins. Fasten the purlins with 2-1/2-inch deck screws, running them perpendicular to the joists. If you use more than one two by four to make each purlin, cut them so they end over the middle of a joist.
STEP FOUR
Install panels. Measure the length of your deck so you know what size, and how many corrugated fiberglass panels to use. We used 12-foot panels for this installation.
The panels are attached with one-inch galvanized wood screws that come with neoprene washers to make the holes watertight. Overlap the panels by one corrugated ripple and screw them into the purlins, using one screw for every other ripple.
If the last panel is too wide, you can either increase the overlap, or rip it to width with a table or circular saw. If you need to cross-cut panels, use a circular saw fitted with a fine-tooth blade or an abrasive wheel to cut panels to length.
STEP FIVE
Install gutters. Use a level to ensure your gutter has a slight pitch in the direction you'd like it to drain. It should have a half-inch slope every 10 feet toward the end of the beam where you plan to install or tie into an existing downspout. Install the gutter with gutter screws every 24 inches.
You're all done! Your underdeck area has been transformed into a brand-new outdoor space.
Prefabricated Under Deck Ceilings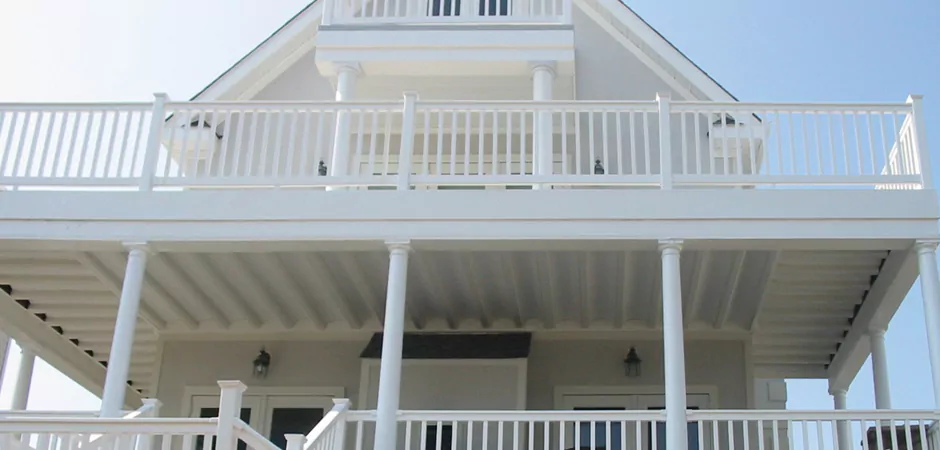 If you don't want to build the ceiling from scratch, there are many types of prefabricated under deck ceiling systems that can be added when the deck is being built, or installed after the deck has been built. The designs vary but all perform essentially the same function: capture the water that drains through the deck flooring; and secondly direct that water to a type of rainwater collection system which captures and discharges the water much like a home gutters and leaders capture roof run off.
Here's a review of several worth considering: