A cold shower can be a rude awakening. Learning that you're facing the expense and inconvenience of emergency water heater replacement will only add to the shock. Paying close attention to your water heater is a key strategy for homeowners who want to avoid an abrupt, frigid start to their day. By following these tips for water heater maintenance, and repair, you can reduce the risk of sudden failure and the potentially catastrophic impact that can have.
How to Know if Your Hot Water Heater

Needs Replacement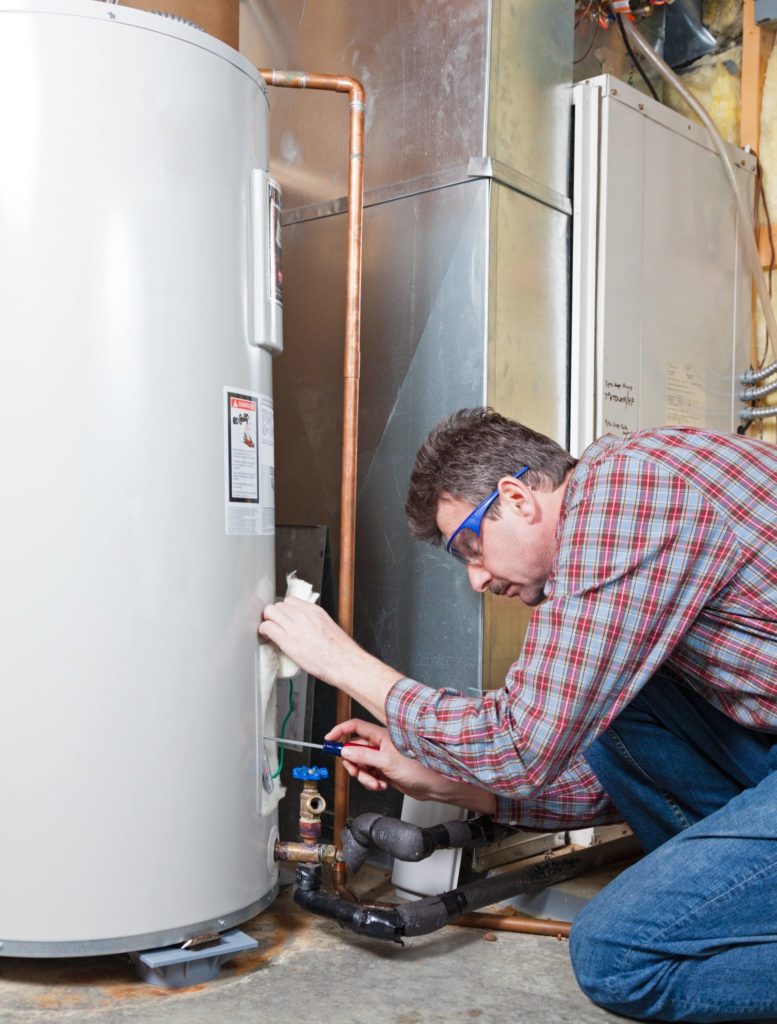 Replacing a hot water heater at the right time is the best way to ensure continuing access to hot water. Unfortunately, there's no simple formula to determine when the cost of water heater replacement outweighs the value of continued repair. The application, age and water or climate conditions can affect the performance and longevity of a water heater. The type of water heater is also a consideration: expectations differ for traditional tank-style heaters, tankless water heaters, boilers, and heat pump water heaters.
But regular maintenance and professional insight can help homeowners understand when replacement is the best option. A maintenance agreement with a reputable home services contractor will include regular tune-ups that keep the water heater in good condition and also serve as an opportunity for expert visual inspection.
In addition to regular professional maintenance, homeowners should familiarize themselves with their water heater. Prompt attention between scheduled maintenance calls can prevent issues and also extend the life of the water heater.
4 Signs Water Heater Replacement May be Needed
Here are some of the signs a water heating professional will look for during a maintenance check or repair job that indicate a water heater is nearing the end of its functioning life. Homeowners can also keep an eye out for these signs between maintenance and service visits.
Water around the heater: A leaking tank should never be ignored. Sometimes water around a heater is the result of a failed or dislodged connection, but it could also indicate a leaking tank or reservoir. Replacement is often the best solution in such cases.
Age: The lifespan of a water heater varies widely. The manufacturer warranty is not necessarily a reliable predictor. For residential water heaters in normal applications, eight to 12 years is a standard range. As water heaters reach that age, water heater replacement may be needed at any time and repair costs may not be worth the investment.
Noise: A water heater makes some sound even when it's operating in optimal condition. If its regular functioning gets louder or it rumbles, that could suggest critical mechanical issues or sediment buildup.
Reduced or slowed performance: A heater that takes longer to warm up or fails to provide hot water requires immediate attention. The issue could be minor, such as a malfunctioning thermostat, but sluggish performance may be leading up to major equipment failure.
While these signs can indicate to homeowners that their water heater requires immediate inspection, none of them are foolproof evidence that it's time to replace the unit. Professional service by a trained and skilled expert is recommended.

3 Easy Steps for Water Heater Maintenance
In addition to monitoring for signs of trouble, experts recommend the following regular tasks that will reduce the risk of failure and improve overall performance:
Flush sediment: Over time, sediment builds up inside the tank. Taking a few minutes to remove this sediment will increase performance efficiency and provide consistent hot water. Drain the water from the tank until no sediment is visible.
Inspect connections: Frequently check the heater and its connections to the water supply. If any hoses, wires or other lines have become disconnected or show signs of excessive wear, contact a professional.
Monitor utility bills: Increased water bills or increased usage could indicate an issue that isn't apparent otherwise. If you see a sudden spike in your water costs, or if water bills and usage slowly but steadily rise over time, schedule an appointment with your maintenance provider.
For many homeowners, their water heater is out of sight, out of mind. They won't think about water heater replacement until they have to, and then they're facing a potentially catastrophic situation. However, with regular water heater maintenance and awareness, homeowners can experience a smooth, affordable installation without any headaches.
Finally, with advances in technology continually improving water heaters, your new water heater is likely to perform better and be more efficient than your current model. Combined with regularly available water heater rebates, your new water heater will deliver ongoing value for many years to come.