Water heating accounts for about 18% of your home's energy use. Reducing your hot water use, employing energy-saving strategies, and choosing an energy efficient water heater for your home can help you reduce your monthly water heating bills.
Unlike boilers that distribute water to heat your house, water heaters deliver hot water for domestic tasks like washing dishes and taking baths. Without them, these daily tasks would be pretty miserable. Not many people enjoy ice-cold showers! Water heaters are fueled by three things: gas, electricity or oil.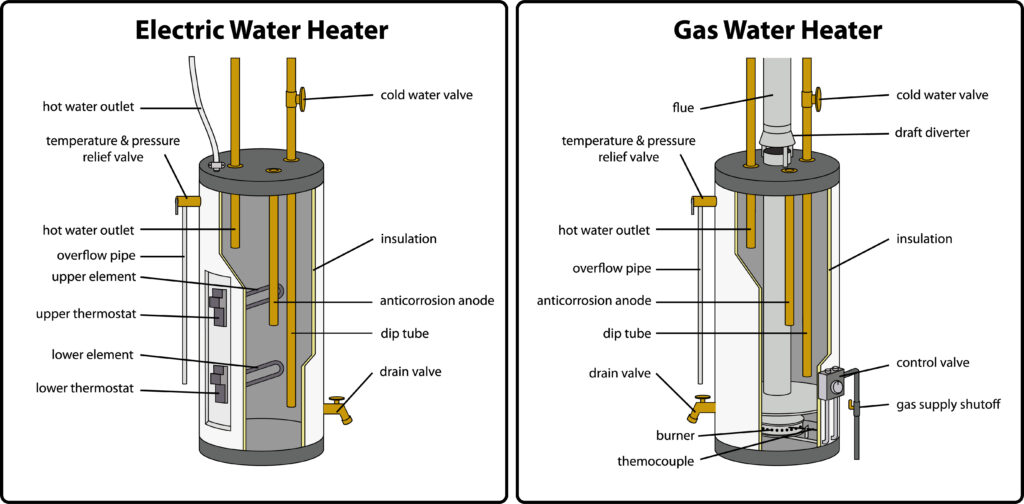 Traditional Water Heaters
Traditional water heaters heat water whether you need it or not. Just set the temperature to 120 degrees or so, and the water heater maintains that temperature 24-7, even when water is not being used. This built-in inefficiency can be conquered by installing a tankless water heater, but first, let's talk about how you can make the tank water heater you have more efficient.
Gas Water Heaters
If your water heater is gas-fired, it is important that it be serviced. Gas water heaters can develop combustion deposits that make the burner inefficient. Plus, that combustion gas is about 80% water vapor and very corrosive, leading to lots of large rust flakes that can form and land on the gas burner. Just like any fossil-fueled appliances, it needs to be cleaned regularly to operate safely and efficiently.
Electric Water Heaters
Electric water heaters exhibit wear and tear a bit differently. These heaters rely on electric coils, usually two of them, with each heating one half of the tank. As the coils age, they burn out. The surest sign of this is when you all of a sudden start running out of hot water quickly. Repair is a matter of draining the tank and replacing the coil, a job best left to an experienced plumber or electrician.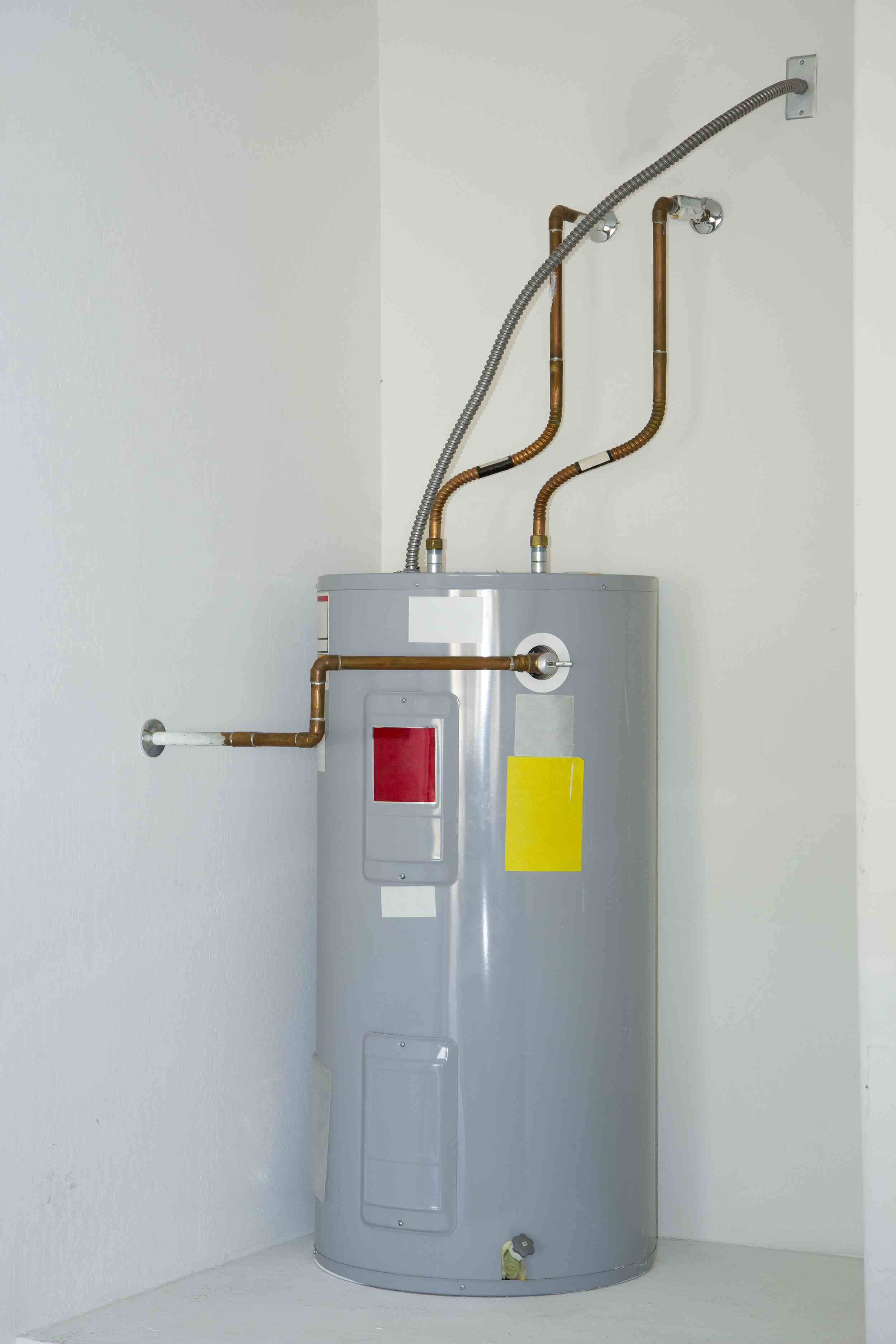 Video: You Can Save on Water Heating
Another way to save operating costs with an electric water heater is to have a 240-volt timer installed that allows the water to come on only when you need it. In a typical day, you'd set the water heater to come on an hour before you wake up to handle the morning showers, then go off during the day only to come back on in the late afternoon and into the evening to handle chores like washing dishes and even baths. Set correctly, you'd only need to heat water 8 to 10 hours a day, rather than 24.
Oil Water Heaters
Oil water heaters need the same sort of maintenance that any oil-fired boiler or furnace might, regular cleaning and adjustment of the burner. But oil water heaters have one very distinct advantage over gas or electric heaters: an extremely high recovery rate. A 30-gallon oil-fired water heater can easily serve a family of 6. You'd need a 40-gallon gas or 50 gallons electric unit to even come close to that.
Regardless of the type of fuel you have, it makes sense to spill out 2-3 gallons of water from the drain valve every 6 months or so to clear any sediment that may have settled in the tank. Sediment can act as an insulator between the heat and the water and make the unit inefficient. To do this, hook up a garden-type hose to the drain valve at the bottom of the unit. Open the valve, and let the water drain into a sink or to the outside. Then close the valve, remove the hose and dry the area up, and double-check that it is fully closed and water is no longer leaking out of the drain.
It's also a good idea to add a water heater blanket to gas or electric units to reduce loss through the shell of the water heaters. Water heater blankets cost only a few dollars and are easy to install by following the manufacturer's instructions.
Another good option for households with electric water heaters to is upgrade to a heat pump water heater. These waters heaters are far more efficient that traditional electric water heaters and many even qualify for significant repabets or tax credits.
Tankless Water Heaters: Best Option for Efficiency
Tankless water heaters the smarter way to deliver cost-effective hot water to your home. We love tankless water heaters. There are many advantages, first and foremost of which is that they never run out of hot water, but they don't sit around heating it all day either These "on demand" marvels only heat water as it's needed, and are also controllable because the water temperature can be changed instantly. Some models even offer a wireless control that can dial up the temperature of your water heater from anywhere in the house.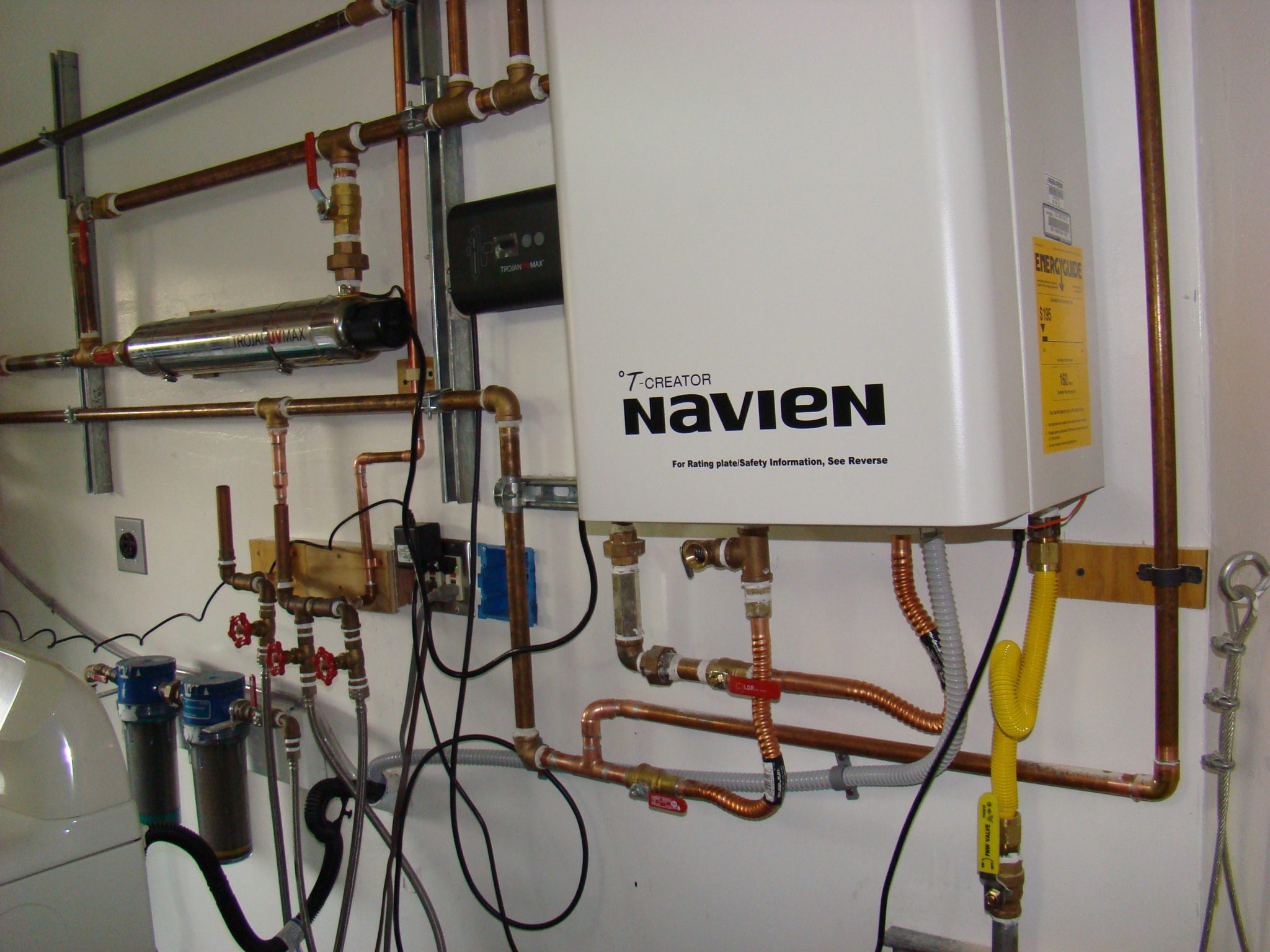 Tankless water heaters burn very clean and the combustion is usually sealed inside the unit reducing or eliminating any carbon monoxide risk. They can last twice as long as a tanked unit. Tankless water heaters do cost more than tanked water heaters, but considering the advantages, this adds up to a great value over the life of the unit.
Contemporary units have easy-to-use digital controls making it easy to dial warmth up or down as needed—an advantage if when the elderly and the young are visiting, with their higher risk of scalding accidents.
Tankless water heaters will not improve the time it takes to get hot water if you install them in the same spot as your previous water heater. There is, however, their size advantage. Tankless units are small─very small─compared to traditional water heaters. As a result, they can be installed practically anywhere, even outside in warmer climes. You can also use multiple tankless units to divide your domestic hot water supply into two zones. One can be fed from the basement or first floor, where it's a short distance to the kitchen and powder room, and another can be fed from the attic or a second-floor closet, where it just steps away from the bathrooms. As a result, you can have both a cost-effective and convenient source of hot water.
Tankless hot water heaters are at their most efficient when powered by propane or natural gas, and typically need gas lines larger than their inefficient tanked counterparts. So if you're considering working one or two into your home's plumbing system, start by consulting with a service professional or the appliance manufacturer.
Want another good reason for going tankless? Tax credit. Along with saving money on your monthly energy bill, you may receive a $300 tax credit from the Department of Energy toward the purchase price of a qualifying tankless unit─a heartwarming and wallet-warming bonus to the comfort and convenience you'll receive from this smart heating alternative.