If you're looking for a powerful, effective well-built tool to blast away dirt, debris, moss, mildew or algae, the new Greenworks 2300 PSI Electric Pressure Washer is one of the best designed pressure washers on the market, combining power, technology and convenience for effective cleaning.
In fact, 93% of purchasers recommend this tool, which has already a 4.5 out of 5-star rating from over 140 purchasers on Lowes.com.
The Difference is in the Details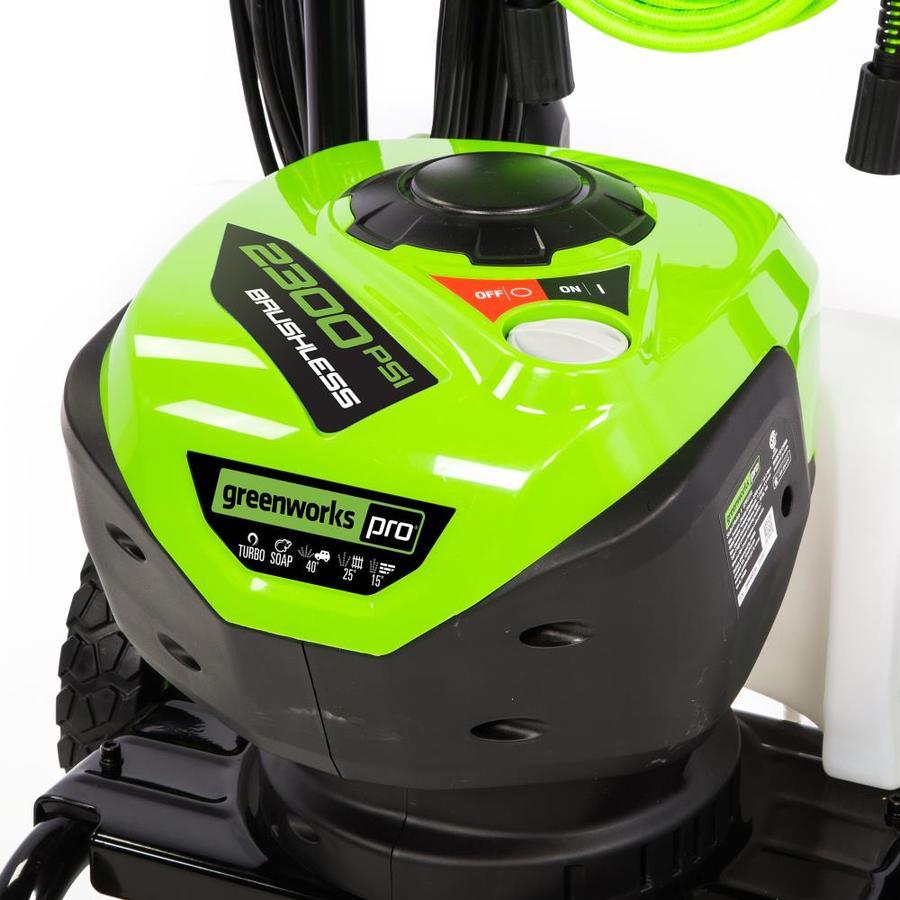 Greenworks 2300 PSI Pressure Washer stands out from typical pressure washers, thanks to the attention to detail provided by product designers obsessed with creating a tool that users won't want to put down.
In addition to its stable design and tangle-free hose, this responsive pressure washer features Smart FlowTM water pressure-sensing technology, which adjust based on the job to deliver the perfect amount of pressure right when you need it. Plus, brushless motor technology provides added torque for extra tenacity needed when taking on the toughest cleaning projects.
Features and Benefits
Plenty of Power. Delivers 2300 MAX PSI at 1.2 GPM, 2.3 GPM MAX at 100 PSI
Kink Resistant Hose. 25-ft of high-pressure, flexible and kink resistant hose. Unfurls without tangle for the life of the product, putting you in a position to power away grease, mildew and debris without a struggle.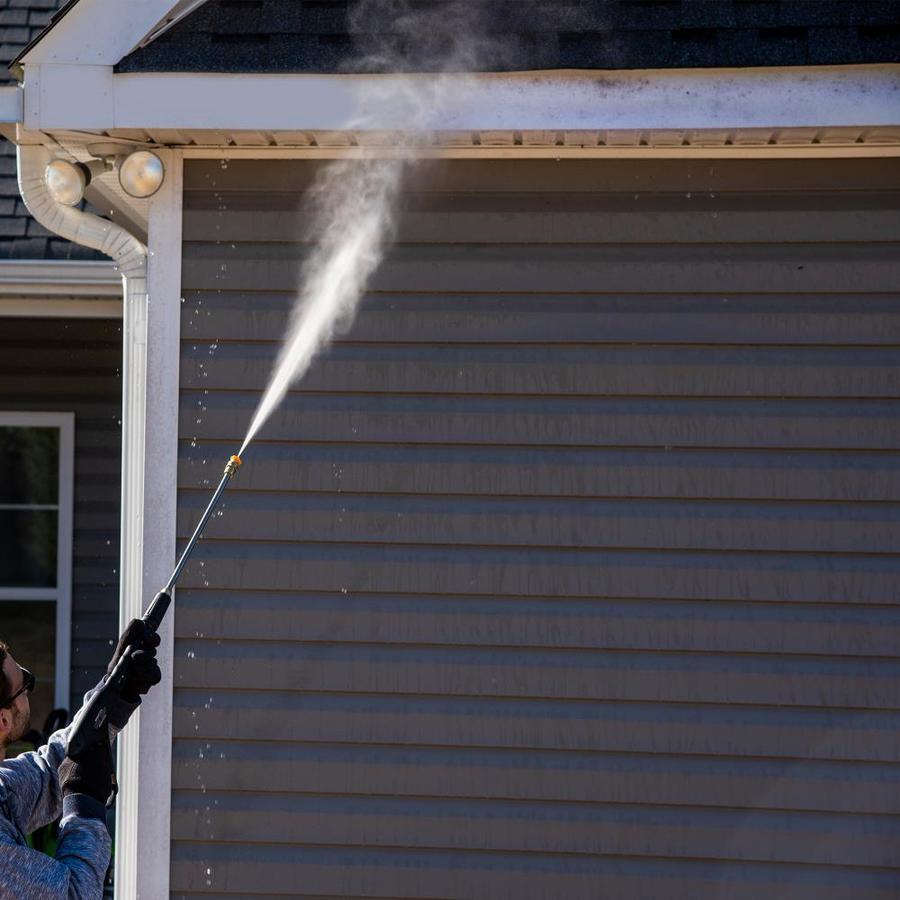 JettFlow™ Technology. Responds to the job at hand, delivering up to 50% more flow, reaching higher areas and quicker power rinsing
High Performance Smart Brushless Motor. Clean engine design consistently delivers with more power, more torque and an extended life, along with a 10-year warranty. Plus, fewer moving parts means less maintenance and reduced wear and tear.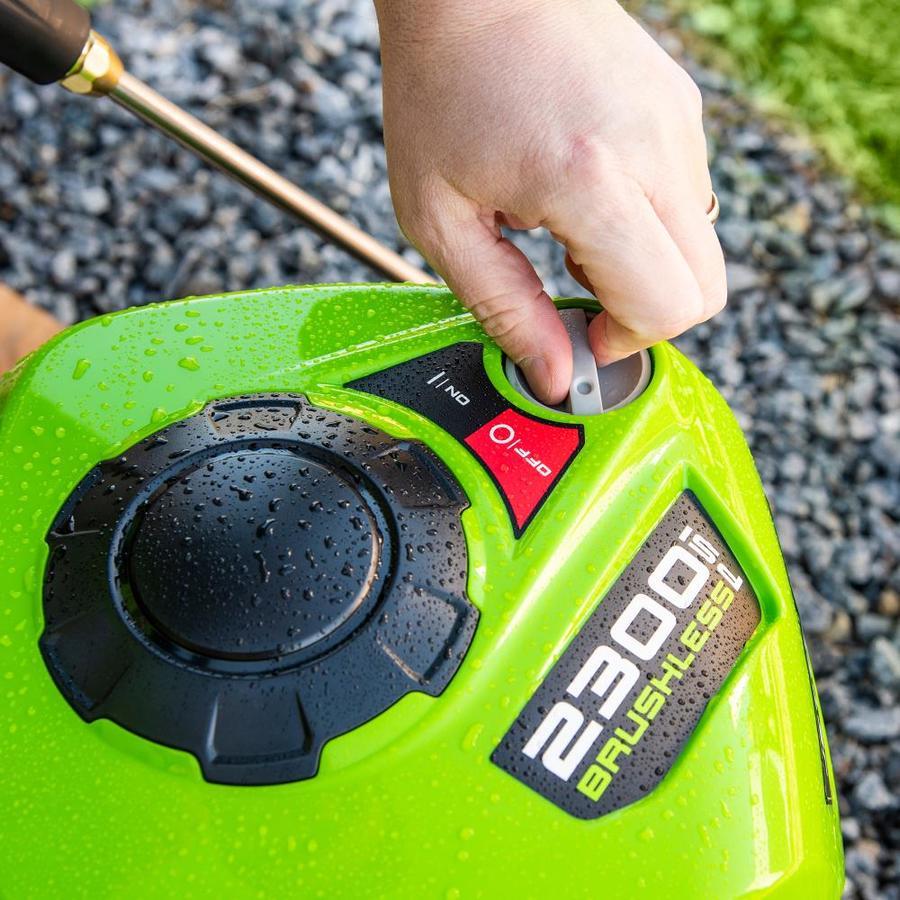 Rugged Roll Cage Design. A steady tool means a steady approach to a job well done. The Greenworks 2300 PSI Electric Pressure Washer features a rear entry gun and 10-in wheels for easy maneuverability. It's perfectly balanced, with a wheel span that allows for both easy transport and a firm stance during use for added durability.
Easy to Reach Accessories. The smart design allows for quick tip selection from several quick connect tips, including a soap nozzle and a turbo nozzle offering ample approaches to tackle the job at hand.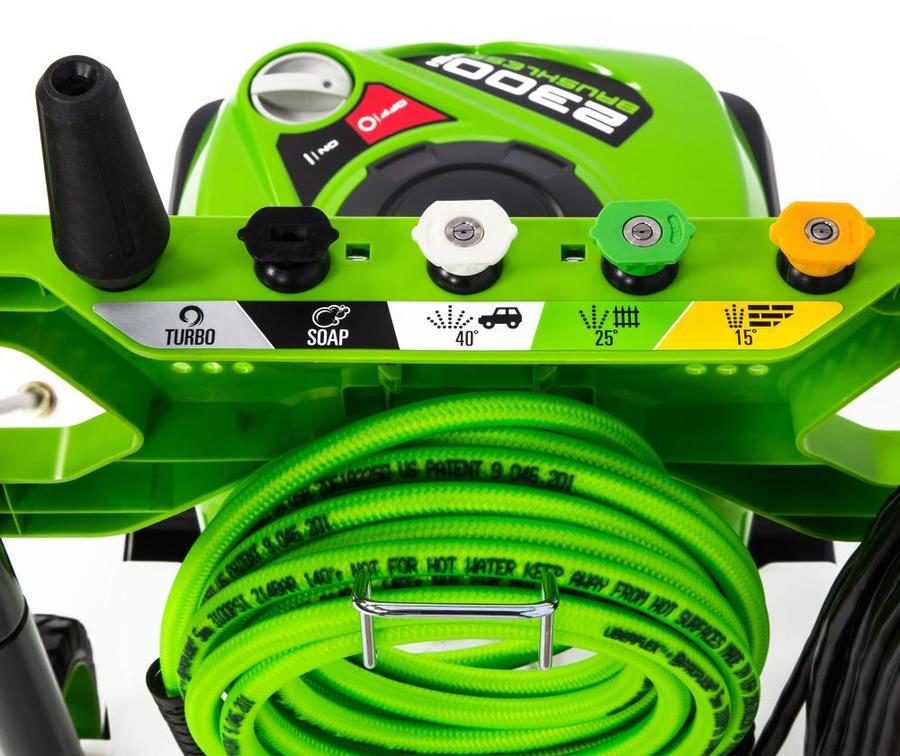 Accessible Power. The 35-ft power cord with inline GFCI for use on all exterior outlets provides easily accessible power.
Easy Instant Start. No need to waste energy priming engines or pulling cords or tripping circuit breakers, Just plug in, turn the dial and wash.
Powerfully quiet. Destroys dirt and debris, not your hearing. Quieter operation than pressure washers with gas engines.
3-Year Limited Warranty. 10-Year Limited Motor Warranty
The Greenworks 2300 PSI Electric Pressure Washer retails for $299 and is available in-store and online at Lowes.