Have you ever found yourself struggling to carry on a conversation while competing with the noise of a window AC unit? They can be deafeningly loud, but now thanks to Haier, cool relief from summer heat doesn't have to come at the price of your peace and quiet.
The Serenity Series Quiet Air Conditioner is America's quietest window AC. Barely louder than a gentle rain, the Serenity Series offers world-class cooling — and produces dramatically less noise than the average air conditioner.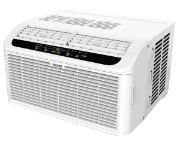 It's also Energy Star qualified – and uses about 15% less energy than conventional models, which could mean a savings of about $85 over the lifetime of the unit, on average. It comes with a very convenient LCD remote control, which shows the settings in the palm of your hand – and lets you turn the AC up or down from the comfort of your bed!
Haier's Serenity Series air conditioners feature 3 cool/fan speeds for personalized comfort, plus auto cool to automatically adjust fan speed depending on cooling need. You can cool the room, circulate the air, save energy when cooling or reduce humidity all in one unit. The cross flow fan provides stronger, smoother airflow and the dual motor design allows for greater air control.
These window air conditioners also feature a 24-hour timer, as well as a sleep mode that auto-adjusts temperature for overnight comfort. The quick-install window kit assembles to the unit in minutes, and the easy-access washable filter removes quickly and rinses clean for easy maintenance.
Pricing is $299 for the 6k BTU unit (pictured above) and $399 for the 8k. Haier's Serenity Series Quiet Air Conditioners are available at Walmart, Amazon and other fine retailers. Learn more at haieramerica.com.