The Stanley® its 3-in-1 Tripod LED Flashlight is the perfect gift for dad. The first of its kind, this high powered flashlight includes three individual flashlights in one for added versatility. Each single light generates 20 lumens of directional lighting, or 60 lumens when all three are combined together. Its multi-directional heads can each swivel up to 120 degrees to project a precision spot beam on any desired target. The body design allows for five different positions, creating an even more precise angle and direction of light.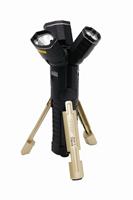 The Stanley® engineers configured the lighting technology to provide outstanding convenience and light output. For example, a single lit flashlight that is inserted into the base will remain ON and turn ON any other flashlights already in place. In the same way, an unlighted flashlight will turn ON when it joins the other flashlights in the base that were previously ON. This unique technology works in the opposite way as well; a lighted flashlight will remain ON after it is removed from the base to give the user the maximum amount of light possible.
When all three flashlights are in the base, any ON/OFF switch can turn the other flashlights ON or OFF. As one unit, the STANLEY® 3-in-1 Tripod LED Flashlight runs on the batteries from each separate flashlight; however, if a single flashlight runs out of battery power before the other lights, it will not drain the other lights' batteries.
A patented hands-free tripod design with one-touch activation helps to make projects easier and safer for professionals and do-it-yourselfers. Slip-resistant feet ensure that the flashlight will stay in place in virtually all conditions. The shatter resistant lenses and weather resistant design make the STANLEY® 3-in-1 Tripod LED Flashlight ideal for outdoor excursions and home improvement projects that can require either intensely focused light or wider, more dispersed light.
Shatter resistant lenses and a weather resistant design make the STANLEY® 3-in-1 Tripod LED Flashlight ideal for outdoor excursions, home improvement projects, and automotive applications. It has a suggested retail price of only $29.99 and is currently available at hardware stores, home centers and online retailers wherever STANLEY® products are sold.
For more information about these and any other Stanley® products, users can visit
www.stanleytools.com
or call 1-800-STANLEY.