On a chilly fall morning, you don't want to stand around shivering while your shower heats up. With the Watts Hot Water Recirculating System, you'll never have to wait for hot water again. It provides instant access to hot water at every faucet or shower when needed — increasing your comfort, conserving water and saving money.
The Watts Hot Water Recirculating System recirculates water within the hot water supply line of a home to prevent it from cooling in the line. The average homeowner can save up to 10% on their water bill and conserve up to 15,000 gallons of water each year by not waiting for hot water to reach your faucet or shower. The system includes a built-in 24 hour, dual set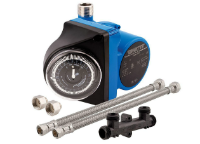 ting programmable timer to activate the pump only when needed.
The Watts Hot Water Recirculating System is maintenance free, extremely quiet and installs in less than one hour. It comes with everything needed for installation into a typical home's existing water heater and plumbing: a pump with timer and 10 ft. electric cord, two adapters with rubber washers, valve mounting screws, sensor valve, and two 12 in. supply lines. Additional sensor valves are available for homes with multiple plumbing loops.
Water and money are wasted every time you have to run the faucet or shower until it's the temperature you want. Instead, get hot water without the wait with the Watts Hot Water Recirculating System.