According to the EPA, indoor air can be five times more polluted than outdoor air – and that's not good since most of us spend 90% or more of our time indoors.
To keep your home's air clean and family healthy by reducing the occurrence of asthma and allergies, it's important to change your air filters on a regular basis.
Unfortunately, finding the right filters and remembering when to change them has always been a hassle.
FilterEasy.com does the work for you. The site helps you find the right size filter for your home, and delivers those filters right to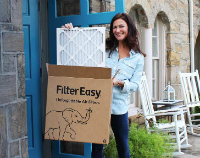 your door, exactly when you need to change them.
Replacing filters regularly is important. Besides breathing easier, you'll also be lowering your energy bills, extending the life of your home's heating and air conditioning system, and reducing the need for costly repairs.
With FilterEasy.com, the process is easy and unforgettable – delivering high quality, American-made air filters to your home, on the schedule you choose – all at a cost that's less than the store!
FilterEasy even allows you to try their service for free. Just visit FilterEasy.com to get started.