Need a way to clean those pesky stains that have been building up over the winter months? CLR Mold & Mildew Stain Remover is tough on stubborn mold and mildew stains, and a perfect product to add to your spring cleaning toolkit. The eco-friendly formula does not contain bleach, and the foam sprayer makes it easy to use and eliminates splashback.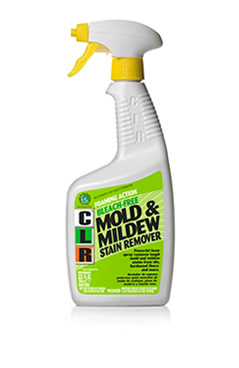 CLR Mold & Mildew Stain Remover's tough and powerful formula cuts through caked-on stains, making cleaning a breeze. It can be used in bathrooms, kitchens and basements as well as on painted walls, ceramic tile, hardwood floors and baseboards, fabrics, glass, metal, brick, concrete, marble, laminated countertops, fully cured and oil-based painted surfaces, hard plastics, automobile tires, wood, grout and fiberglass where mold and mildew are present.
CLR Mold & Mildew Stain Remover carries the EPA's "Design for the Environment" designation, which recognizes products that are safer alternatives. It will be available for purchase in late spring at grocery, discount and hardware stores nationwide. Visit www.Jelmar.com for more information.