Stale, foul odors can make your home's atmosphere unpleasant. Typical air fresheners mask odors. Citrus Magic air fresheners don't just mask, but completely eliminate foul odors from your home.
Citrus Magic Solid Air Fresheners use the power of natural citrus to immediately absorb and eliminate odors, replacing them with clean fresh scents and providing continuous 24/7 odor elimination. They are ideal for basements, closets, pet areas and cars. Available in both citrus scents and clean scents such as fresh linen and lavender. The Solid Air Freshener lasts up to 8 weeks and is available in a variety of sizes.
Citrus Magic All Natural Non-Aerosol Spray Air Fresheners are 100% natural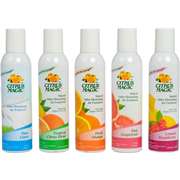 and immediately effective. Other major aerosol sprays are filled with mostly water, chemical propellants, and artificial fragrances. This means only about 10% of these products contain active ingredients. Non-aerosol Spray Air Freshener contains 100% active ingredients and it lasts four times longer. It comes in several fragrances including Tropical Blend, Lemon Raspberry, Fresh Orange, Pink Grapefruit, Pure Linen, Tropical Lemon, and Tropical Lime. Not only is this product natural, it's also eco-friendly as the non-aerosol spray does not release propellants into the atmosphere or your home. It's also very cost effective because one quick pump releases 100% active, natural ingredients. There is no need for continuous spraying like other aerosol sprays!
Brand new from Citrus Magic is the innovation of the Triple Action Moisture Absorber and Odor Absorber. This is a "triple threat" against excess humidity, moisture, and foul odors in the home. Triple Action's unique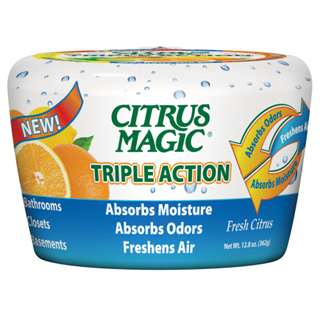 packaging consists of three chambers – a chamber that has moisture absorbing crystals on one side and solid air freshener on the other – and a third chamber in the bottom that collects the moisture from the air. Simply empty the bottom container periodically. Citrus Magic® Triple Action is great for damp basements, steamy bathrooms, musty closets, laundry rooms or anywhere there's an issue with moisture in the home. To learn more, click here.
All Citrus Magic products are 100% Made in the USA. Visit www.citrusmagic.com to learn more.