Are you tired of messy, sticky and unreliable glues? Have you ever reached for the tube only to have it stick to your fingers or even to find that is all dried out?
Now there's a product that completely eliminates these problems: Bondic, the world's first liquid plastic welding tool.
Bondic can bond, build, fix and fill almost any material and is the first actual alternative to glue when it fails in today's most common issues.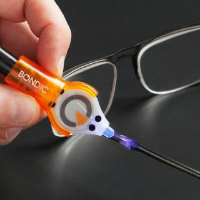 Bondic is not a glue, but is actually better! Instead of sticking objects together, Bondic allows you to create new material around two broken pieces like a soldering tool or literally rebuild the entire piece like a 3D printer. Bondic will never stick to your skin and will never dry out in the tube. The coolest part is that Bondic goes on like a liquid but is cured with a small included UV light in just 4 seconds!
Bondic can be built up on itself to create any size or shape you want. It can then be filed, sanded, milled, polished or painted for a seamless repair. Bondic will bond to plastic, metal, glass, ceramic, wood and fabric and will even work underwater and in extreme cold and heat.
There are knockoffs out in the market, but Bondic is the original, dentist-invented, made in the USA, non-toxic product. Bondic retails for $19.99 and is available at Target, Walmart, CVS, Ace Hardware, Hobby Town, True Value and Amazon. Learn more at www.notaglue.com.