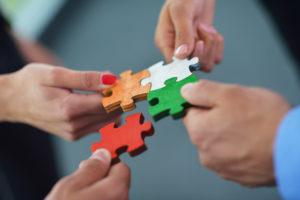 Just as you can't build a house alone, there's no way you can undertake a challenge like producing The Money Pit each week without the help of a dedicated group of people who love what they do. The show wouldn't be where it is today without the contributions of our entire team. Each of them works hard and put their heart into everything they do to make The Money Pit possible.
Lisa Vitale

Production Manager

When Lisa applied for her job with The Money Pit, she said she wanted a position where she could climb the corporate ladder. So, we said no problem and got one out of the shop for her to take a few steps on. Lisa now runs Money Pit World Headquarters safely from a ground level desk and handles all the jobs nobody else wants, like spackling the office ceiling. In actual fact, Lisa has an incredible construction background. She was the original Apprentice – renovating apartments in Manhattan's Trump Tower. Lisa worked in New York City for many years as a project manager for a large construction company, overseeing renovations and reconstructions from concept to completion. She's a city girl through and through, graduating from NYU. But that doesn't keep her from her passion: skiing! Every weekend Lisa escapes to the mountains of upstate New York, where she, her husband and two daughters have a second home. Lisa has been with The Money Pit for over ten years, and enjoys the many fringe benefits of the Money Pit employee compensation package, like the free tools companies are always sending us to try out. Say, has anybody seen the drill?

Jim Kenzie

Chief Engineer

Jim is The Money Pit's head geek and a guy who never met a piece of broadcast equipment he didn't want to own, but much prefers to beg, borrow or steal. As Chief Engineer, he's in charge of making sure the show runs smoothly and is the guy that gets yelled at when something goes wrong. But that rarely happens, because Jim has been engineering audio and video projects since 1976. Certified in 1981, he has worked on Grammy-nominated CD's, feature film music productions, weekly television shows, and several hundred live radio broadcasts; both remote and in-studio. Jim has 5 children, a lovely wife, and sings tenor in a local music group.

Kim Snyder

Voiceover Talent

Kim Snyder is the voice of the Money Pit. As an avid home improvement diva and a broadcast professional, it's the perfect fit. Kim started in radio at 15 where she vowed one day to become the 'main' voice of those big commercials instead of the local tag voice. Through hard work and perseverance, her wish came true and she is now the voice for companies like Sprint, Hallmark, and H&R Block. In addition to voice overs, she is an established session vocalist, working on campaigns for Anderson Erickson and the Kansas City Royals. Kim is also an accomplished actress with credits that include playing the lead on episodes of such television shows as Unsolved Mysteries. Kim loves home improvement and says she finds a strange kind of satisfaction when her neighbors make bets on what she's ripping up next. Having designed, framed, dry walled and decoratively painted her studio herself, she clearly takes her work for the Money Pit very personally. In fact, she said she'd do it in trade for power tools, but either way, the projects get done!

Skip Joeckel

Affiliate Manager

After a childhood of staying up past his bedtime listening to radio stations across the country, Skip made a big career move and accepted a position with K Mart as a Merchandise Procurement Specialist (can you say "stock boy") because they promised to let him announce the Blue-Light specials ("Testing 1-2, Attention shoppers"). Unable to keep his passion for radio and announcing in check, Skip embarked on highly successful and broad ranging radio career. Over the years, he has worked on the air, in programming, production, sales and management. Skip is now in charge of his own company – Executive Broadcast Services. EBS syndicates a select few independently produced talk shows. The current roster includes: The Money Pit, The Cigar Dave Show, Gun Talk, The Small Business Advocate, Free Talk Live, Extreme Genes – Family History Radio and the Life As You Own It Program. These programs are under the banner of a separate division of EBS called Talk Shows USA. Skip is one of the best Affiliate Managers in America and is in large part responsible for the continued growth of The Money Pit. However, we still need to lock up the microphones night.

Holland Cooke

Talk Radio Consultant

Holland is a guy who gets paid to listen to our show and tells us when we are doing something wrong. In other words – he's a "consultant" and a good one at that. Holland is actually a highly sought after broadcast professional that has spent forty years toiling in the radio/TV vineyard. He's survived a variety of on-air and management positions, not the least of which was his seven years as Operations Manager of WTOP/Washington, during which time the station scored its highest ratings ever as an all-news station. Undaunted, he then became a founding partner of USA TODAY Sky Radio, the live-via-satellite News, Sports, and Talk audio channels heard on Delta, Northwest, and United Airlines. Today, his tireless work includes programming and marketing strategies for Talk radio stations from Alaska to New Zealand, career counseling for radio talent, and Internet development for entrepreneurs, companies, and radio personalities. He's also the publisher of one of the most widely read radio industry newsletters, a publication frequently spotted in parakeet cages and fish markets across the country.

Fred Miller

Audience Analyst

Fred Miller is the President of Consumer Specialists; a marketing and management consulting firm. As part of his consulting work, Fred has served as the Managing Director of the Home Improvement Research Institute (HIRI) since late 1998. Fred is responsible for tracking and analyzing The Money Pit's growing audience of active home improvers. His research determines the top trends, projects and buying habits and is effective in helping Tom & Leslie program the show to match these needs. Prior to forming his consulting firm, Fred was an Executive Vice President at Thompson ï Minwax. In his 10 years with that company he was responsible for the marketing efforts that built the Thompson's® Water Seal® business. Preceding that, Fred had senior marketing positions with General Foods and General Electric. Fred earned an award as one of the top 100 marketers in the US from Advertising Age and has also has received a Gold Effie award from the American Marketing Association for proven business results. His work has led to numerous awards within the home improvement industry for new products, packaging design and point of purchase materials.
Ivo Kurvits

Webmaster

Ivo is no stranger to the world of Home Improvement. Growing up, he spent time with his Father in his workshop building furniture, on the job site renovating rooms, and in the back country building saunas. Fortunately for us, Ivo didn't have room for a workshop of his own, so he channeled his technical eye and desire for construction into web development. Ivo has been a Web Developer since 1997, and his skills are self taught on the job. Never one to rest of his accomplishments, he is presently expanding his horizons through classes in Computer Software Development @ McGill University. He says he plans to get back into wood working & renovations if this internet thing doesn't work out. As good as Ivo is for our show though, the closest we think he'll get to home improvement will have to be listening to the program!

Pamela Del Hierro

Art Director

Pam is an extremely talented Web/Graphic designer and artist with a passion for home improvement. And, while she can't always build a project that comes out right, she darn sure can just draw a fancy picture of it that is always perfect! Pamela's training is as diverse as her portfolio. She completed the Technical Illustration program at Sheridan College. Pamela later returned to Sheridan College for the post-diploma New Media Design program. Here she was introduced to the world of multimedia and used programs such as Flash, Director, After Effects and also started working with HTML. Pamela always strives for excellence in everything she does. She has a proven track record in creative design with a superior ability to conceptualize design projects that are both creative and effective. True to her job on Team Money Pit, Pam's favorite pastime is painting. Except she insists on using those little-bitty brushes and it takes her forever to finish a few walls and a ceiling.

Nora DePalma & Jim Datka

Marketing & Public Relations

Nora DePalma and Jim Datka are principals of O'Reilly-DePalma, a marketing agency specializing in building products and related industries. Nora and Jim met Tom when they hired him as spokesperson for an online home improvement service. Tom and Nora were delighted to learn they both grew up "down the shore" in NJ and shared a passion for both Springsteen and marketing in the home improvement industry. Nora has 25 years of professional development in marketing and communications, having worked for brands such as American Standard, Jado, Minwax, Trane, ImproveNet, the National Kitchen & Bath Association and BuildLinks. Jim, born and raised a Wisconsin cheddarhead, got his industry start at Kohler Company, later developing new products and leading marketing efforts at American Standard, Col Ceramica, Hansgrohe and ImproveNet. He has built a fully tricked-out workshop where he works on home improvements and indulges his passion for woodworking.

Chris Sutton

Musical Director

Chris Sutton is a London-based, Producer/Artist/Songwriter. Having an extensive history in music, has taken him on an amazing ride: a life he would never have traded for anything. From being a solo artist/vocal producer in the eighties, to being an all round producer/writer and talent developer now: he is truly a musician's musician. No-one cares for and works harder for the artist/writer than Chris Sutton. Even now as a respected producer and writer of varied genres, he will always think for, and as an artist.

Chris is responsible for the music used on The Money Pit, including our theme which was written hastily by Tom using some of the dozen notes he remembers on the piano. It was Chris, however, who orchestrated that wretched production into the catchy tune it is today.

If you want someone to help you refine your production/vocals and/or writing, so that you are heard by everyone, at your very best: Contact Chris now.

Jim Rohman & Giles Cooper

Official Photographer/Assistant Photographer

Jim Rohman Photography has been in business since 1976. Jim's career found him. His first job out of school was a salesman at a commercial photo studio calling on advertising agencies. The clients weren't into what he was selling but Jim had a natural eye for photography and liked the same style of photography the clients did. So Jim decided to give photography a try and everybody said his photos were great and that he should go out on his own. So, as he says, he was "dumb enough to believe them". His clients include: Dana Corp., HCR Manorcare, Libbey Glass, Mercy Health Partners, Merillat Cabinets, Owens Corning Fiberglas, Owens Illinois, Sky Bank. He's photographed everything form automobiles to diamonds, manufacturing to open heart surgery, presidents and prime ministers to children, disabled and homeless people. Jim is married with two children and based in Holland, Ohio. Giles has been with Jim Rohman for 10 years and has a degree in fine arts photography.
Warren Banholzer

Executive Producer

For Warren Banholzer, a love of music soon turned into a career playing with and managing musical groups. He produced and performed on numerous releases, and operated a studio and a sound production company. While still involved in music, he began exploring the advertising industry. After graduating from college, Warren joined STUDIO A, a small full service-creative advertising agency. It was there that he developed skills as a radio and TV producer, voice-talent, copywriter and photographer, winning multiple awards for his work along the way. A move to Seattle took him to KSER-FM where he enjoyed his first true radio gig and producing the station's first promotional campaign. In 1996 Warren joined what was then Broadcast Programming and later Jones Radio Network where, as Operations Manager, he directed the company's technology investments and was instrumental in the success of the Delilah(R) syndicated radio program as well as other music and talk products. Delilah grew from 11 affiliates in 1997 to over 200 by 1999. In early 2002 he began selling for CBS RADIO at 1010 WINS News Radio New York, the top billing radio station in the country. Warren was a Senior Account Executive at CBS when he left to join Money Pit Media. Contact [email protected]

Annie Hunt

Vice President / Sales Operations

In her capacity as VP of Sales Operations, Annie manages and coordinates all activities related to the execution of sales orders. She is also an accomplished sales marketing professional and is in charge of creating and customizing those materials and presentations.

Prior to working with Money Pit Media, Annie worked in Advertising Sales and Marketing for top publications such as The New Yorker, Vogue, and Rolling Stone.