Repairing a damaged wall can be a tedious project, with several layers to mend and uneven results. 3M Patch Plus Primer helps eliminate these common challenges, with an innovative formula combining spackling and primer for a strong, even patch in just one step.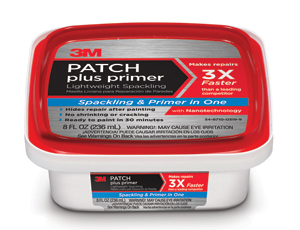 Traditional spackling compounds tend to shrink, crack and flash, allowing the patch to show right through the paint. 3M Patch Plus Primer solves all of these issues with great hiding power and a finish that anchors paint to the wall patch. And there's no need to prime the repaired area before painting because the primer is already included, for a repair that's three times faster than with standard patching compound. 3M Patch Plus Primer also dries hard and keeps a firm hold on nails and screws.
3M Patch Plus Primer is available at home improvement centers and regional paint and hardware stores nationwide. For more information, visit 3MDIY.com.