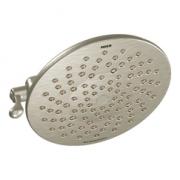 You can enjoy a soothing, water-saving shower by installing the Moen Envi Eco-Performance Rain Showerhead. This generously proportioned eight-inch-diameter showerhead provides the powerful stream you're accustomed to but at a water-saving flow rate of 2.0 gallons per minute (gpm), 20 percent less than the industry standard of 2.5 gpm.
Multiple shower settings include a revitalizing rinse that concentrates water flow into 30 spray nozzles and a softer shower using as many as 100 spray nozzles.
The Envi Eco-Performance Rain Showerhead also makes use of Moen's innovative Immersion rainshower technology, a self-pressurizing system that increases the force and flow of water delivery. Look for this water-saving showerhead in Chrome and Brushed Nickel finishes at your local plumbing showroom.