A lush front yard is a key component to your home's curb appeal, and a beautiful backyard makes relaxing and entertaining outdoors all the more enjoyable. Want to restore your lawn's color and thickness after a long winter? Vigoro Lawn Fertilizer with Assurance Particle Technology feeds your lawn in one easy step, making it a snap to keep your lawn looking its best.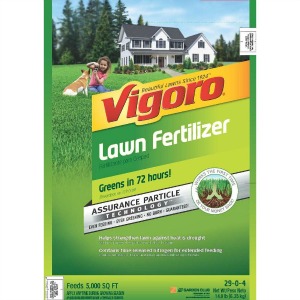 Vigoro's new Assurance Particle Technology distributes more particles per square foot compared to the previous Vigoro formula to deliver even feeding and even greening with no burning guaranteed. This fertilizer greens in just 72 hours and features a time-released nitrogen formula to keep your lawn looking great. It also improves your lawn's ability to absorb water and nutrients to help strengthen your lawn against heat and drought. For optimal results, feed your lawn every eight weeks when grass is actively growing.
Vigoro Lawn Fertilizer with Assurance Particle Technology will be available at select Home Depot stores starting this spring at $12.78 for 5,000 sq. ft. and $33.48 for 15,000 sq. ft.
The Vigoro brand has been around since 1924 and is exclusive to the Home Depot. Vigoro offers high quality lawn and garden products at a value price, and is the only garden brand that encompasses a wide variety of items such as fertilizer, plant food, live goods, hardscapes, lawn accessories and more. For more information, visit www.Vigoro.com.