To save money this winter and improve hot water delivery, go tankless. An efficient, Energy Star-labeled tankless hot water heater can immediately trim your water heating expenses by 30 percent, adds speed and convenience, and will even lower your tax bill come April. Here's how a tankless hot water heater can help you save money: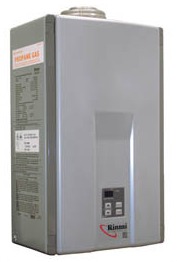 Heat as you need it: A tankless hot water heater warms water only as it is needed, saving energy and cutting out the reheating wait involved with a traditional tank hot water heater.
Easy, instant control: Water temperature can be adjusted instantly, with some models even offering wireless controls that allow you to dial heat up or down from anywhere in your home.
Compact design: Tankless units are very small and can be installed practically anyplace, allowing you to create multiple water-heating zones for comfort and convenient delivery. For example, one hot water can be installed in the basement or on the ground floor to supply the kitchen and powder room, and another can be stationed in the attic or a second-floor closet to supply upstairs bathrooms.
Longer lifespan: With a life expectancy of 20 years — much longer than traditional tank water heaters — you can depend on a tankless hot water heater for long-term service. What's more, tank leaks and water damage are out of the picture.
Tax credit eligibility: Install a tankless water heater now through the end of the year, and you'll earn an energy tax credit equivalent to 30 percent of its purchase and installation costs that can be applied to your 2009 tax return. If you aren't able to make the switch to tankless before year's end, no worries: the tax credit also applies to tankless water heaters installed throughout 2010, so you'll still have a chance to save on next year's taxes. Whether you go tankless this year or next, don't forget to look into additional tax breaks and rebates offered by your state and local utility.
With the savings, comfort and convenience a tankless hot water heater offers, going tankless is a savvy way to trim year-round energy costs. Find out more about the tankless hot water heater tax credit at Alliance to Save Energy, and visit Energy Star for tips on tankless hot water heater selection.