Owens Corning's EnergyComplete™ with Flexible Seal Technology, is a whole home insulation and air sealing system. Affordable for both homeowners and contractors, this innovative system combines energy savings, safety and affordability. With the EnergyComplete system, Owens Corning provides homeowners and building industry professionals in the U.S. a new opportunity to reduce home energy use and lower related energy bills.
"Buildings are the number one user of energy in the U.S., consuming 40 percent of the country's energy resources – more energy than industry and more than transportation," said Karel Czanderna, group president Owens Corning Building Materials. "By delivering an energy efficiency system that meets the needs of homeowners and building professionals in performance, ease-of-use, safety and affordability, we have a great opportunity to dramatically reduce energy use today for new homes being built and the existing 80 million under-insulated U.S. homes."
Installed in two parts, the EnergyComplete system uses a new foam-based sealant to reduce air leakage, addressing a major source of energy loss, and proven PINK FIBERGLAS™ insulation to deliver exceptional thermal performance.
Homeowners Save and Live Comfortably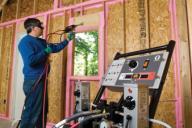 When used in new home construction, the EnergyComplete system meets Department of Energy recommendations, and exceeds the 2009 International Energy Conservation Code (2009 IECC) requirements by approximately 40 percent(1). Homeowners can save up to one-third(2) on heating and cooling costs and will experience enhanced comfort with a 40 percent reduction in perceived exterior noises compared to closed-cell spray foam.
The EnergyComplete system also provides consistent room-to-room temperatures and a reduction in the conditions that can lead to mold growth. The EnergyComplete system has even proven to be a first line of defense against pests and insects.
For existing homes, the EnergyComplete system can be installed in attics, basements, crawlspaces, or during a home addition or remodel project. The EnergyComplete system will help homeowners save on heating and cooling energy related bills for the life of their home. Homeowners are also eligible for a 30 percent tax credit on the cost of the EnergyComplete system for a maximum credit of $1,500 under the American Reinvestment and Recovery Act of 2009. The EnergyComplete system is safe to install and can be applied while the house is occupied.
The EnergyComplete system meets strict indoor air quality standards through the GREENGUARD Certification Program(SM) and the even more stringent GREENGUARD Children & Schools(SM) standard.
Benefiting Building Industry Professionals
"Homeowners told us they want homes that are more energy-efficient and comfortable and resist mold growth," said Tom Quigley, vice president and general manager, Owens Corning Residential Insulation. "Builders and contractors are eager to meet those demands but, until now, other options were prohibitively expensive, not easy to use or did not provide a sealing solution for the life of the home. Contractors and builders across the country are already gaining business with the EnergyComplete system."
Contractors benefit with an easy, reliable and safe-to-install system with a low upfront equipment investment. The system seals all joints and cracks. Within minutes, the installation can be completed with PINK FIBERGLAS™ insulation. Builders realize increased jobsite efficiency and reduced installation cost and are able to offer homeowners reduced energy bills throughout the life of their home.
Supports Green Building
Building with the EnergyComplete system will help new homes achieve energy-efficiency and green building certifications including: the Environmental Protection Agency's ENERGY STAR®; the National Association of Home Builders' National Green Building Standard; and the U.S. Green Building Council's Leadership in Energy and Environmental Design (LEED) certification.
Source: Owens Corning