Looking to freshen up your home décor, both indoors and out? Whether you want to bring new life – and new color – to a dresser or a patio set, spray paint is an affordable and easy way to revamp tired furnishings. And Krylon products provide superior, long-lasting results that allow you to take any item and Make It Yours.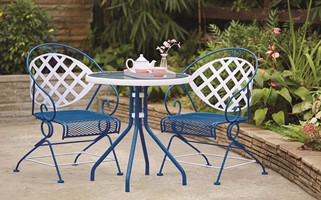 If your project involves a hard-to-paint surface such as plastic, laminate or melamine, Krylon's new Dual Superbond Paint + Primer will help you get the job done. This two-in-one product lets you skip the sanding and priming – just spray it on, and it preps the surface to ensure maximum adhesion, coverage and rust protection. Krylon Dual Superbond comes in 24 colors with gloss, satin and flat finishes, and is available at hardware and home centers at a suggested retail price of $4.99 to $5.99.
On the other hand, if a vibrant, true hue is your top priority, Krylon's new ColorMaster spray paints with Covermax technology are ideal. Covermax achieves premium coverage without relying on shading or fillers that can darken or wash out colors. You'll get cleaner, crisper hues and a smoother finish, as well as a two-in-one formula for quicker results.

ColorMaster spray paints can be used on metal, wood, glass and fabric and dry in 10 minutes or less. Choose from nearly 100 brilliant colors and finishes, including enamels, metallics, primers and clears. ColorMaster is available in aerosols, quarts and half pints at local hardware and home centers, as well as craft stores, at a suggested retail price of $3.75 to $5.99.
Krylon's Dual Superbond and ColorMaster products both feature Krylon's exclusive EZ Touch conical spray tip. It requires the lowest force to spray on the market, reducing finger fatigue and maximizing comfort, while also minimizing the occurrence of runs and drips.
Whether you are working with a notoriously hard-to-paint surface, or aiming to capture the vivid color of your dreams, Krylon has the perfect solution for your painting project. Krylon, the nation's leading spray paint manufacturer, offers a wide selection of paints and paint-related products, from general purpose paints to specialty products to rust-preventative paints and primers. For more information, visit www.krylon.com.