LESLIE: Well, did you ever notice that the nicest-looking landscaping on your block has neatly-edged beds and paths?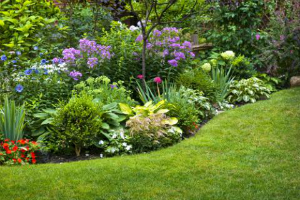 TOM: Absolutely. And nothing gives landscaping a professional look like that edging. There are different types; some are more do-it-yourself than others. Here to tell us all about that is This Old House landscaping expert, Roger Cook, and the show's host, Kevin O'Connor. And Kevin, it's all about clean lines, isn't it?

KEVIN: You've got that right. One sign of a well-maintained landscape is a clean border between the plant beds, the lawn and the hardscaping. That's where edging comes in.

Roger, what are the options?

ROGER: Well, one option is plastic edging but that seems to move in a freeze/thaw cycle and requires a lot of maintenance to keep it in place. You could use steel edging but it can be a bit pricy. Stamped concrete is OK but it's not exactly DIY-friendly.

Sometimes, I'll use jumbo cobblestones lined up side-by-side about halfway in the ground and held in place with a wedge of concrete behind them.

KEVIN: Ah, it's going to look great but man, it sounds like a lot of work.

ROGER: It is but maybe the best solution is no edging at all. What I'll do is I'll cut an edge on the lawn, using a long-handled, half-moon edger. Now that's simply a long, wooden handle with a sharp blade on the end of it. And I cut and remove some of the grass, leaving an air space and that air space will stop the grass and roots from growing into the beds.

KEVIN: Alright. And we've actually got a video with several different types of edging on our website, which is ThisOldHouse.com.

TOM: Roger Cook, Kevin O'Connor, on the cutting edge of home improvement. (Roger and Kevin chuckle) Thanks for stopping by The Money Pit.

KEVIN: Glad to be here, Tom.

ROGER: Never thought I'd be on the cutting edge of anything. (Tom laughs)

LESLIE: Yeah, great tip. And you know, this is the time of year to do it, folks. So get out there and give your home some curb appeal.

TOM: And for more great tips, you can watch Kevin and Roger on This Old House, which is brought to you by Cub Cadet. Cub Cadet, you can't do any better.