This driveway is ideal for the four-wheeling enthusiast who wants to bring his hobby home — and he'll need to if he expects to get his car into this garage!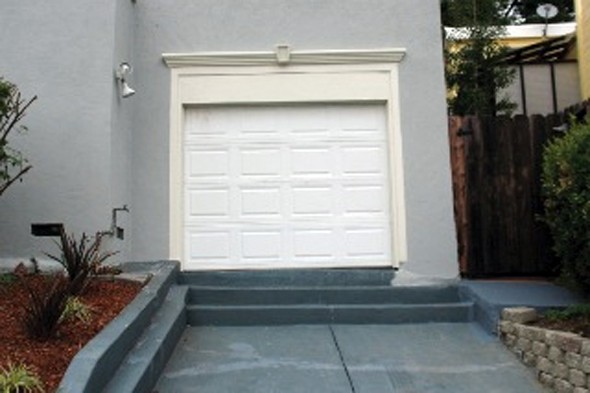 Diagnosis
This garage entrance arrangement even has me stumped; who builds a garage with no intention of ever driving into it? The only possibility that comes to mind is that this garage was used as the sales office for a housing development, although the entry isn't exactly the greatest selling point for model home design.
On the other hand, if this garage is meant for its traditional purpose, let's hope the owner at least drives an SUV or an all-terrain vehicle!
Rx
For this garage to be usable, the retaining walls lining the driveway will have to be rebuilt and the driveway itself will have to be raised to garage-entry level.
Building a retaining wall requires skill, the right materials and structure for the terrain, and consideration of the climate in which you live. It's lucky that the example here is located in California's San Francisco Bay Area, where the climate is mild and there isn't much chance of the freezing temperatures and snow load that could make this driveway rebuild even more of a challenge.
The driveway and garage entry must be rebuilt to handle automotive load while ensuring that the surrounding landscaping is shored up and able to drain properly. Depending on your experience, a structural project of this magnitude may call for a professional's guidance .
It all begins by tearing out of those steps and pseudo-retaining walls, and replacing them with new walls and a built-up driveway. There are a number of retaining wall options available from basic wood ties to modular stone walls. But just as important will be compaction of the fill material used to raise the level of the grade between the walls up to the height of the garage floors.
Done correctly though, the new, stair-free driveway should allow even a Humvee to glide into the garage at the end of the day.
Can I Treat This Myself?
If you've got a cement mixer (or can rent one), go for it. If you're inexperienced laying cement and you want a perfect job, you'd be best to work with a qualified masonry contractor for this critical structural rebuild.