Are you looking for a way to bring more of your personal sense of style to the outside of your home? Try one of the eye-catching colors in the Decorum by Simonton line of vinyl window and door frames. Simonton's Decorum line lets you break free from ordinary white windows and window frames, and express your colorful personality in shades like Brick, Chocolate, Bronze, Cream, Driftwood, Pine and Tan.
It's a growing trend: American homeowners are integrating more colors on the exterior of their homes. The d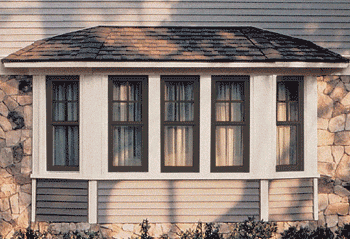 urable colors of Decorum by Simonton window and door frames are keeping pace with that trend. Now, when you invest in replacement windows, you have the added pleasure of tapping into your creative side. You can have a Brick red window frame set against the pure white clapboard siding on a Federal-style home. Or, you can enhance a mountain cabin with Pine green window exteriors. Now more than ever, the options for enhancing your home's exterior are endless.
The choices continue inside the home, with Simonton's line of interior laminates and hardware finishes. To create a stylish, personalized look, choose from among interior frames in White or Tan, along with rich, authentic Antique Cherry, Maple and Contemporary Oak. Premium hardware finishes include Brushed Nickel, Oil-rubbed Bronze, Polished Brass, Dark Bronze, White, Driftwood and Tan.
You can tailor windows and patio doors to your precise needs with Simonton's color-matched, sculptured grids and screens. And not only are the Decorum by Simonton products fashionable, but they're energy efficient and help add resale value to your home.
It's no wonder Simonton ranked Simonton ranked "Highest in Builder and Remodeler Satisfaction among Residential Window and Patio Door Manufacturers" in the J.D. Power and Associates 2010, 2009, 2008 Builder and Remodeler Residential Window and Patio Door Satisfaction Study.
Door and window frame colors don't have to be dull. With Decorum by Simonton, you can apply your unique brand of creativity to the outside of your home, where all the world can appreciate your true colors.