On a bright summer day, there's nothing more beautiful than the sun streaming into your home through the eye-catching colors and patterns of decorative glass doors. But while the summer sun may be in full force, advances in fiberglass door engineering now make it possible to let in the light through decorative Glass, without letting in too much heat or raising your utility bills.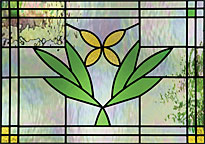 You can close the door on energy loss with simple improvements. For example, fiberglass doors from Therma-Tru® offer five times the insulation of a wood door and are Energy Star qualified, providing excellent thermal protection. You can incorporate decorative glass into your entry to personalize your home and add curb appeal while protecting your home from heat loss.
The Therma-Tru Savannah glass design pictured here emphasizes the movement from ornate Victorian architecture to the American Craftsman tradition with its straightforward floral design. Sunlight will dance across the iridescent water glass, but it won't overheat your home thanks to energy-saving glass technology.