With plenty of visiting friends and family members to impress, you want your home to look its best for the holidays.
One product makes holiday decorating, crafts and even home repairs and DIY projects quick, clean and easy – Glue Dots.
Glue Dots brand adhesives are "The New Way to Glue," bonding instantly to virtually any surface and eliminating the mess, dry time and guess work that comes with traditional liquid glues.
Nothing is more frustrating than reaching for a bottle of liquid glue to find it has dried out or the tip is clogged. Glue Dots never dry out, and are ready to work when you are. They provide an instant, secure bond on almost any clean and dry surface, making them the ideal everyday adhesive.
Unlike liquid glues, Glue Dots bond instantly and are clean and easy to apply. You get a pre-measured pattern of adhesive with every application, which eliminates the mess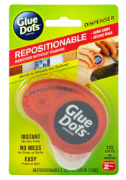 associated with traditional liquid glues. The Glue Dots Dispenser is fast, accurate and easy. Just press the dispenser to the surface and pull to release the perfect amount of adhesive.
Glue Dots Repositionable Dispenser (pictured) fits in the palm of your hand and is perfect for quick fixes and repairs, such as hanging signs or securing rugs. Use as an alternative to traditional tapes and glues at home, in school or at the office. Not recommended for heavy or bulky materials that require a permanent bond.
Glue Dots Advanced Strength Dispenser is ideal for tough jobs and DIY projects that require exceptional holding, such as securing trim or repairing tile. The Advanced Strength Dispenser stores easily in a toolbox or drawer for easy access.
Glue Dots dispensers have a suggested retail price of $4.99 and are available at Amazon, The Home Depot, Hobby Lobby and Walmart. For more information about Glue Dots, visit www.gluedots.com, and for great holiday craft ideas, decorating and gift-wrapping hacks, and more, visit www.gluedots.com/consumer.