Are you more concerned this year about mosquitoes and the diseases they carry? Do you want to take back your yard, but don't want toxic chemicals around you and your family?
Terminix AllClear Mosquito Bait & Kill is a first-of-its-kind product – a totally new, non-toxic approach that kills backyard mosquitoes and prevents them from biting, breeding and potentially spreading diseases for up to 4 weeks when applied as directed. It can be reapplied after 4 weeks for continuous control.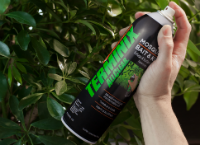 If you're serious about getting rid of mosquitoes in your backyard, stop trying to kill them the same old way – instead, feed them something they'll die for. Terminix AllClear Mosquito Bait & Kill is the only control product that mosquitoes actually eat – and they literally die for it – no more breeding, no more biting. In just 2-3 weeks populations are reduced by more than 90%. Better yet, it's 100% non-toxic and safe for people, pets and the environment.
Mosquitoes have been around since the dawn of time. They can get used to the traditional repellents and contact chemicals we use all the time. If you want effective control, you need an entirely different approach, and that's Bait & Kill. It's the only spray that lures mosquitoes to an edible bait and then kills by ingestion – other backyard controls repel or have to come into contact with mosquitoes to work.
With Bait & Kill, mosquito populations are destroyed and kept down over weeks vs. being briefly repelled or knocked-down for a few days. And it only targets mosquitoes, whereas other sprays can randomly kill thousands of insects, many of them beneficial, as well as amphibious/aquatic life. And while contact controls must be sprayed at dusk and dawn when mosquitoes are most active, Bait & Kill can be applied any time of day.
The scientific process that makes Bait & Kill so effective is called "Attractive Targeted Sugar Bait" or ATSB. Mosquitoes are lured with a proprietary sugar bait that is infused with an ingestible 'toxin' – in Bait & Kill, it's garlic oil. Mosquitoes require regular feeding on plant sugars to survive. Bait & Kill taps into that innate biological need and delivers a targeted one-two, bait and kill punch.
Terminix AllClear Mosquito Bait & Kill retails for $12.99 for a twin pack of two 15 oz cans – enough to protect areas up to 5,000 sq. ft. Bait & Kill is available at select Target and Lowes stores, and online at amazon.com, target.com and lowes.com. Learn more at www.baitandkill.com.