An exterior lighting design helps complete your landscaping project. After investing time, money and creativity in your home's exterior detailing and landscaping, don't forget to turn on the lights.
A well-designed exterior lighting design enhances a home's best assets, adds drama, and keeps your home safe and secure.  Every shimmering exterior lighting result depends on a carefully constructed plan. Here is where to start.
Budget for impact.  Exterior lighting costs can range from minimal to expensive, depending on the investment in exterior lighting you want to make. Illuminating a home where you plan to be for only a few years will merit a different level of exterior lighting investment than a longer-term abode where you'll be making ongoing outdoor improvements and additions.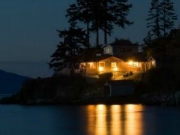 In either case, be honest with yourself and your lighting designer about what's most important to accomplish; from there, system elements and installation plans can be prioritized. You may choose to execute a grand scheme over the course of a few years, or make a smaller, one-time investment for your exterior lightscape needs.
Style meets function.   In the most successful exterior lighting design schemes, function and aesthetics go hand in hand. Consider safety, traffic patterns, and how you'll use outdoor rooms. Intimate spaces for informal gatherings with family and friends will call for different exterior lighting and effects than major entertainment centers.
Long lasting effects.  Whether you're working with a pro or shopping for do-it-yourself lighting systems, go for quality fixtures and components, because you'll definitely get what you pay for. Low-voltage is the way to go, but you really need to work with good materials, says lighting expert Tom Bevilacqua of Afterdark Landscape Lighting in Long Island, New York. Look for durable natural lighting fixture materials like copper and brass, and choose fixtures with glass enclosures. Lifetime warranties are also available on many of the better lighting products out there, he said.
Bevilacqua also says to be sure to invest in a trustworthy transformer for your lighting system, otherwise you could wind up with an outdoor lighting scheme that fades around the edges, or, worse, a complete blackout.
Creating mood and focus.  A range of outdoor lighting fixtures make it possible to illuminate your home's exterior as well as any Hollywood lighting designer could. But focus, focus, focus is the mantra to have in mind before you go lighting crazy; too much is too much.
In the front and back yards, carefully choose focal points to receive the brightest and most dramatic spotlight (whether an unusual tree, water feature, or architectural ornament), and build the rest of the outdoor lighting scheme around them. Overall, shoot for a natural look that replicates moonlight streaming softly from above, as opposed to heavy doses of uplighting.
Safety and security.  Harking back to the utility portion of the exterior lighting planning, illuminating for safety and security should be central considerations.
Make sure to shed light on all walkways, stair treads and risers, low-to-the-ground water features, and grade changes. In addition to careful placement of the exterior lighting, the light's qualities should expose potential intruder hideaways as well as regularly used thoroughfares. Bevilacqua says that low-voltage fixtures produce a much more even light, while harsh spots create a flat light that leaves pockets of darkness where thieves can hide.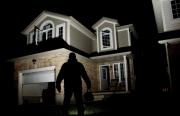 Advanced lighting control systems also protect your home whether you're in or away. Timers, light-sensitive photo cells, remote controls, and computerized lighting systems can all help you manage your new lighting scheme. Bevilacqua suggests a combination of lighting controls, with front yards on automatic timer systems and back yards on more flexible, homeowner-managed exterior lighting networks.
Lighting design and installation.  And when should you actually start digging in and implementing your lighting design scheme? You can install anytime, but it's best to get the designer involved as early as possible in the home renovation or building process. It's not mandatory, but it works your advantage.  In the ideal conditions, lighting pros can usually do installation work in two phases: wiring and system controls are installed before paving and plantings arrive, and after they're in place, the team returns to mount and fine-tune outdoor lighting fixtures. Such an approach creates the opportunity to integrate controls with the rest of a home's  systems for convenience and creates a dazzling result.