LESLIE: So on TV's This Old House, we see some pretty tricked-out outdoor kitchens, like the one we just saw created for the homeowners of the Greek Revival row house in the 35th anniversary season in the Charlestown area of Boston.
TOM: That's right. Outdoor kitchens can be a great addition to your backyard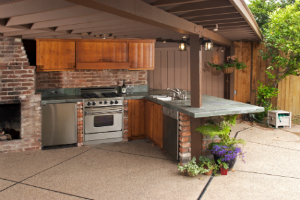 entertaining space but they don't have to be as expensive or as extensive as the ones on TV to do the job. This Old House host Kevin O'Connor is here with some DIY and budget-friendly options.
Welcome, Kevin.
KEVIN: Hi, guys. Great to be here.
TOM: So, I'm sure you never saw a budget you didn't like when it comes to these outdoor kitchens.
KEVIN: You know, they don't have to be as extensive as ones we put on but you really want to do it.
TOM: Yeah. You really, really want that.
KEVIN: You guys saw that when we put it, he was like, "Oh."
TOM: Oh, my God, it's so amazing.
LESLIE: I mean they're beautiful.
KEVIN: Yeah, it was really nice. They really are. And you want to just – when you see it, now all of a sudden you just want to live your entire life out there on your patio.
LESLIE: Oh, I know. But most of us cannot afford to spend $25,000 on an outdoor kitchen.
KEVIN: No, I guess that is true. But you don't have to, which is the good point. And when you're thinking about the outdoor kitchen, think about what you have in the indoor kitchen, right? There are basically three things that you need. You need a work surface to prepare your food, you need a place to clean up after you're done cooking and then, obviously, you need the surface to cook on. So the grill …
LESLIE: And a pizza maker and a sink and a Kegerator. All sorts of things.
KEVIN: Did you say Kegerator?
LESLIE: I may have. I may have.
KEVIN: I'm all in.
TOM: On a budget.
KEVIN: On a budget.
TOM: That'll be the next edition of Money Pit and This Old House.
KEVIN: Right. So when you get the grill, obviously the grill is the place where you go and do the cooking, so you can check that off the list. And some of these grills – a lot of them now, actually – come with a little side area where you can actually do some prep work or put some bowls down or platters while you're doing the cooking. They're probably not big enough or sturdy enough to do the hardcore prep work – the chopping and stuff like that – but that shouldn't stop you from adding one.
TOM: Right.
KEVIN: And there a couple of things that you can do to add one. You can bring in sort of a rolling kitchen table, put it up next to the grill. You do that, you can have a better surface to work on. Think about the materials in that case; obviously, something that's going to withstand the weather is going to be a good idea. So, protected wood or stainless steel even would be great. But then, if you want, if you've got some good carpentry skills, you can build your own.
You can think about a frame made out of wood and then also think about the material that you want to put on. There's a stone top that will stand up to the weather. It will be a great thing.
Or you can build these things up. There's a lot of pavers out there right now, a lot of these do-it-yourself kits where you can build these out of masonry products. It can be a great look, you can do it yourself and you can create yourself a good-looking outdoor kitchen with that prep area.
LESLIE: Yeah. And it can kind of look like it's built-in, so that's really neat, too.
KEVIN: Absolutely. And you can buy grills that are made to be built-in. Or you can build it around an existing grill just to at least have that feel of the built-in look.
TOM: Now, one of the challenges is really the plumbing part of this. You do need water for cleanup. It's darn convenient if you have it outside. What are some inexpensive ways to create that in your outdoor kitchen?
KEVIN: To be honest with you, I think you've got to think long and hard about whether or not you want to add water to this. Because where I live, all of that stuff has to be shut down in the off-season. It is great to have but it's a whole 'nother level of thinking in terms of the off-season.
However, if you want to go for it, chances are you've already got an outdoor hose spigot in the backyard and that can be modified so that you can bring some water over to the grilling area for cleanup. There are actually some manually powered sinks available that can hook up via hose and then you can use a pump with your foot for water flow. And then the sink drain can also be diverted away with a hose to avoid any puddles at your feet.
And then they've got the old-fashioned sort of potting sinks that you would use for gardening. You can get those at a garden-supply center. I think about using one of those next to the grill. But for me, I just bring the dirty dishes inside and tell the kids to start scrubbing.
LESLIE: I think another luxury – which really isn't a luxury when you're thinking about cooking outdoors; it's almost a necessity – is refrigeration. Because a lot of times you're sort of staggering the cooking process to keep things at the ready. Or if you're entertaining for a long period of time, can you do an outdoor refrigerator in there?
KEVIN: You certainly can. It is probably a luxury, like you say. But if you've got power out there, you can bring in a small refrigerator. And they actually make refrigerators that are rated to be outdoors and so you want to think about that. Again, anytime you're talking about those outdoor kitchens, no matter what you add out there, think about the weather. Do you want it to be able to live out there through the rain, the snow, the heat and all that type of stuff? And there are small refrigerators rated to do that and that could be a nice option. Keep the drinks going, keep the side salads cold while you're cooking the burgers and such.
TOM: What's great about this advice, Kevin, is that you really can approach it in a modular basis. You can start small with, say, just a good grill with some cooking surface and then build on from there. You can add the rolling cart, you could add some cabinetry, you could add the outdoor refrigerator and kind of, over time, create this kitchen.
KEVIN: And I think when you're working outdoors, the projects, I think they're just a lot more forgiving, right? It's not always finished carpentry and fancy moldings.
TOM: Yeah.
KEVIN: I'm doing just that: building a side table for my grill. It's got a little wood frame and a big, solid, 4-inch-thick wooden top. It's just – it's not that complicated and it doesn't have to look so refined. It is the outdoors after all.
TOM: Let us know when it's ready. We'll be by for steaks.
KEVIN: You got it.
TOM: Kevin O'Connor from TV's This Old House, thank you so much for stopping by The Money Pit.
KEVIN: Always a pleasure to be here, guys. Thank you.
LESLIE: Alright. Catch the current season of This Old House and Ask This Old House on PBS. For local listings and step-by-step videos of many common home improvement projects, visit ThisOldHouse.com.
TOM: And This Old House and Ask This Old House are brought to you on PBS by GMC. GMC, we are professional grade.