Do you live in a tornado-prone area?  The safest place to seek shelter from the storm is in a "safe room" right in your own home. 
The average tornado victim has less than 60 seconds' warning that a tornado is going to strike their home.  Unfortunately, when most people hear that urgent warning, "Seek shelter immediately!", they have no safe place to seek shelter.  And most deaths and grievous injuries result from being hit by wind-borne debris.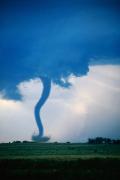 These days, the safest safe rooms can be purchased in modular kits, making it easier than ever to incorporate a storm shelter into your home.  For example, the StormCloset is an impact-resistant, fire-resistant tornado shelter that comes ready to assemble in your home or garage.  Designed by a structural engineer to be exceptionally strong, the StormCloset is probably stronger than any type of home-shelter you could rig up yourself – and certainly more protective than crouching in the bottom of your coat closet.  The StormCloset protects you and your loved ones against the fury of an F5 tornado.  It meets the requirements of FEMA 320 and the National Storm Shelter Association Standard.  It also passed testing at the Wind Science & Engineering Research Center at Texas Tech for missile impact resistance at tornado velocities.
The StormCloset comes complete with a tested and approved tornado-proof door and well illustrated assembly instructions.  You'll also get the frame, the hardware, structural adhesive, connecting and anchoring hardware, and all the vents.
As an added bonus, the StormCloset can also protect your valuables from fire and burglars, making it just as useful in the tornado off-season.