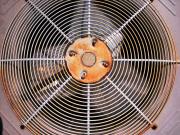 As another New York humid and sticky summer draws to a close so does a chapter in my personal life. We are getting central air conditioning installed! The summers of sweating it out with a window unit air conditioner are over. Do you know anyone who needs a free window unit? I've got 4 up for grabs!
Seriously though; the time just felt right to do this improvement now. It's not that we are doing construction in the house and walls are open so we might as well. Rather it was the tax incentives, the manufacturers rebates, and service provider rebates that were available that truly made it worth our consideration. Oh, and of course being able to relax in a non humid home.
If this seems right up your alley but you think it can't be done due to an older home, like ours, or the cost think again. Head over to your local building department and find out what is required to have A/C installed at your home. Find out about permits, fees, etc. While you're there ask if your town has a list of the pros who tend to do a lot of work in your area. They will gladly share that with you and that instantly puts a list in your hands of people who are working in your area, are familiar with the rules of the area, and of course is licensed. Plus they know the ins and outs of your building department. 
Invite several pros over to hear their approach to your job and what the costs would be. Make sure when interviewing the installer that you feel comfortable with the folks that will be doing the job, find out about the process, what type of work are you required to do after, ask about the rebates and products that qualify, and get references! And call them! Also make sure that the compressor that you install will be using the Freon free coolant, in 2010 all manufacturers have to be Freon free. One step toward a cooler house and a cleaner earth!