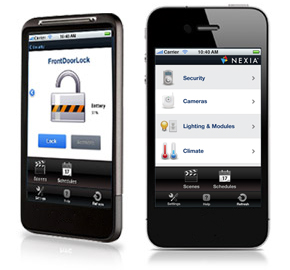 Earlier this month I had the pleasure of attending the International Consumer Electronics Show, the world's largest consumer technology tradeshow. It takes place every year in Las Vegas, and what happens at this show definitely does not stay in Vegas. Many groundbreaking gadgets that have gone on to change our lives and leave their mark on the world were first unveiled at CES, including the VHS tape, CD, HDTV, Microsoft Xbox and Blu-ray DVD.
This year, one big emerging trend is clearly advances in home management technology, which helps you operate your household in an intelligent, efficient way.  While this use to be a product promoted by only the most ardent green manufacturers, it now seems to be going "mainstream" with big players like Verizon and Ingersoll-Rand joining the fray with quality products and solutions.
Verizon's home automation system, for example, lets you monitor your complete home environment helps you protect your family and keep to your budget.  You can use Verizon Home Monitoring and Control whether you're home or away to do things like adjust your thermostat, track energy usage and lock your doors.
Another exciting home management system that has emerged is Nexia Home Intelligence, backed by big Ingersoll-Rand brands like Trane and Schlage. The possibilities are endless but include features like the ability to remotely raise or lower your blinds, remotely manage heating and cooling, video surveillance, track electrical usage and operate lights. You can even program it to deliver a text alert when your kids arrive home from school safely, the pet sitter comes and goes, or a contractor arrives and then departs after completing a job.
As technology becomes ever more advanced and engrained in our lives, it makes sense to take advantage of its ability to help us lower our carbon footprints and make our homes more secure. I'm excited about the growth of home management solutions and know they'll lead the way to smarter and more efficient ways to manage our households.