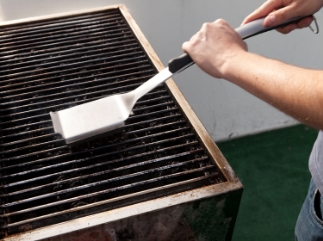 By now, your gas grill has probably been through several backyard bashes, family dinners and casual cookouts. Before the next round of cooking begins, take time to clean your grill for safe operation and dependable results. Here's an easy five-step grill cleaning plan:
Start by soaking the gas grill's grids in hot, soapy water and clean them with a nylon scrubbing pad. If they're absolutely encrusted with grilling debris, apply oven cleaner to the grids in a well-ventilated area, then rinse clean.
Remove the lava rock or ceramic briquettes from the grill, and clean them with a wire brush. Replace any pieces that have deteriorated.
Remove the grill's burner, brush it clean and carefully check for cracks, holes and split seams. If you find any of these, replace the burner.
Check all rubber gas hoses for cracks, and replace any that show even the slightest sign of wear.
Reassemble the cleaned grill elements, and check the gas connections for leaks. To do this safely, mix a 50/50 solution of liquid dishwashing soap and water, then brush it on all gas connections and watch for bubbles. Anywhere you spot bubbles, a connection is leaking and should be fixed before you fire up the gas grill.