Airline tickets – vitamins – baseball cards – You wouldn't think twice about buying them on the internet.   But what about wallpaper, or carpeting or linens?  Is the convenience of online shopping worth giving up the traditional touch and feel value of these purchases? Don't bet the the mouse on it!
Today's web technology lets homeowners pick, choose and browse home decorating products, making shopping for home improvement online a very effective way to choose products for your home.
The Harvard University Joint Center for Housing Studies reports that 26 million Americans will make some sort improvement to their homes this year.  But American homeowners are busy.  Shooping for home improvement online offers real advanatages since web stores are open 24/7.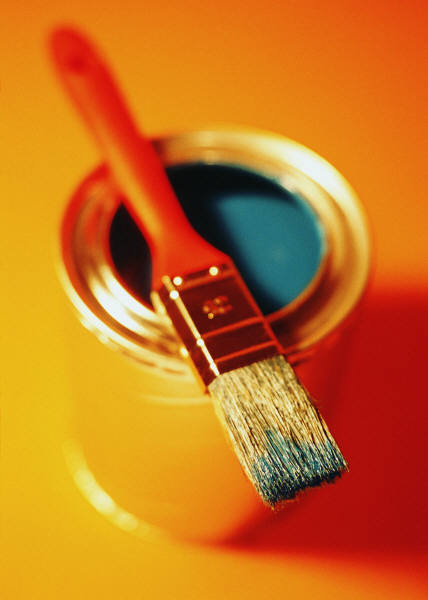 This is especially important for women, who industry experts estimate make 70% of the home improvement decisions and purchases.  In today's two-parent working or single homeowner households, there is little time to spend in the local home center, pondering paint, wallpaper or flooring.  For these folks, the shopping for home improvement online provides some very distinct advantages.
Instant Price Comparisons
Most of the major name brands in all of the decorating categories; like wallpaper, bed and bath, flooring, etc, will provide the universal SKU or color/model number – as well as a price – for each item.  This makes it easy to compare prices, and you won't have to wonder if the Laura Ashley sheets you saw for $99 in one store are the exact same one you saw for $150 in another.
Remember when your mom used to lug home 5 or 6 of those huge wallpaper books at a time?  And then had to visualize the whole room by propping up a 10 inch sample?  Now many online home improvement shopping sites feature realistic visualizers that will actually re-create your room – from it's exact shape and size right down to the location of your fireplace.
For example, after entering a few basic room specs at seemydesign.com, you fill in your potential choices of color/flooring/furniture, etc., and get a virtual view of the new look.  You can change your choices – and your mind – as often as you'd like.  Moving a mouse is much easier than moving a couch.
Instant Bargaining Power
Even if you don't plan to make an actual purchase on the web, it may pay to take a quick look at the manufacturers' sites you're considering.  This will give you leverage when shopping locally.  It's a real advantage to be able to say, I saw this bedroom set on-line for $1299 – your price is $1500.
Do The Math
There are 2 areas in which your decorating dream can quickly become a nightmare – calculation and delivery.  Before ordering any home improvement product via the web, make very sure you have correctly calculated all the formulas.  Know exactly how much paint you'll need, exactly how tall the end tables are, and exactly how much you're going to pay including tax, added costs, etc.
It's also imperative to be clear on the methods and costs of delivery.  Don't jump on a web purchase based simply on a cheaper price.  You may find the delivery charges will actually make your total cost more than the local store's price. 
Return to Sender
They're the ugliest curtains you've ever seen.  You don't know what you were thinking when you ordered them.  Now what?  Return policies vary greatly from site to site.  Most major manufacturers offer no-charge returns, but frankly don't make it very easy to figure out how to do it.  Be sure to ask if on line purchases can be returned to your local store location.
Bottom line – the web offers a tremendous cache of tools for any home decorating project.  Whether you're buying, browsing, or simply dreaming, shopping for home improvement online is a great way to go.