I never buy extended warranties on appliances, TV sets or just about anything else. Just about every serious study I've read shows these warranties to make very little economic sense. However, a new wave of independent, multiple-appliance extended warranty programs that offer a lot more protection for a lot less cash might make some sense.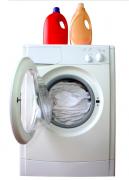 One example of a great multi-appliance warranty plan is the
All Six Service Plan
from Chicago-based Extended Warranty Group (EWG). For about $.66 a day or $19.95 a month, this all-in-one program provides repair coverage for six major household appliances of any make, model or age. Unlike warranties with limited coverage terms, the warranty remains in effect on all registered appliances for as long as you're enrolled, and even includes replacement coverage for appliances that cannot be fixed. Service is performed by members of a nationwide network of licensed, pre-screened technicians.
The life expectancy of refrigerators, stoves, dishwashers, built-in microwaves, and washers and dryers may average between 10 and 15 years, but many an expensive surprise can pop up in the meantime. Whether you're considering an appliance warranty or extended service contract, your current array of major appliances and financial tolerance for breakdowns, repairs and replacements, could make buying a multi-appliance warranty a good deal.