With winter on its way, now is the time to make sure you have enough insulation in your attic to keep you warm and cozy throughout the cold season, and help you save money on your energy bills.
U.S. Environmental Protection Agency (EPA) estimates that homeowners can save up to 10% on their total annual energy bills by sealing and insulating their attic and other areas of their home.
During cold weather, sealing and insulation help keep the warm, heated air from escaping into your attic.  During hot weather, it helps keep the heat outside of your home's living space.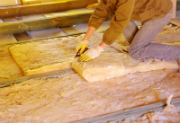 If your attic insulation is low, you should consider adding insulation to help increase comfort and make your home more energy efficient.
But how can you tell if you need more insulation? Follow these steps, recommended by the ENERGY STAR program, to "Rule Your Attic" with a simple insulation level check.
First, gather what you'll need: tape measure or ruler, flashlight, and cell phone or digital camera with flash.
To do the check, open the attic door or hatch. Climb up so you can easily reach through the opening and see the insulation. Attics can be tricky places to work, so be careful and exercise good common sense. For safety, you may want to ask a friend or relative to help.
Use your tape measure or ruler to record the depth of the insulation.  If your insulation is installed unevenly, you may want to take measurements at the high and low spots.
To keep a record, use your phone or camera to take a few pictures. 
When you are back downstairs, check your results. If you live in a Northern state, you should have about 16-18 inches of insulation throughout the attic floor. If you live in a Southern state, you should have about 13-14 inches. If you have significantly less than these amounts, you are a great candidate to improve your attic by adding insulation.
After you've completed ENERGY STAR's Rule Your Attic challenge, it's time to share your results! Post your pictures to Facebook.com/energystar, Pinterest.com/energystar or @ENERGYSTARhomes on Twitter, making sure to use the hashtag #ruleyourattic. Once you post, Money Pit hosts Tom and Leslie will weigh in on how you can improve your home's attic insulation level and energy efficiency. Also, feel free to join our Twitter party on November 13 at 2 pm EST to learn more about sealing and insulating your attic for winter.
For more information on how to properly seal and insulate your attic and other home energy improvements, visit energystar.gov/sealandinsulate and learn how to Rule Your Attic!