Every new year ushers in some of the harshest weather, and it's easy to get caught up in your family's winter safety concerns: from all-weather tires to snow boots, from draft sealers to space heaters. But don't forget that your pets are members of the family, too, and even the most outdoor-loving dog can suffer the ill effects of winter weather as easily as humans.
Depending on your type of dog and your budget, there are dozens of ways to ensure your best friend stays happy and healthy. This winter, give a thought to your dog's safety and comfort with these cutting-edge pet gadgets.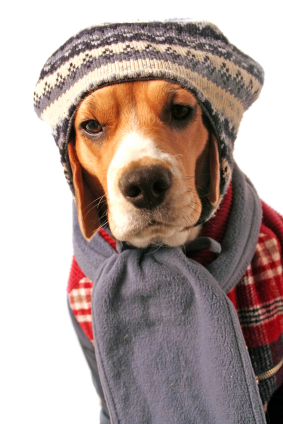 Custom Dog Coat. You shop for the best performing winter gear for yourself — so why not for your dog? You might think a dog's natural coat helps protect him from the cold, but if your pet spends most time indoors, he may not have had the opportunity to gradually develop a thicker coat that will keep him sufficiently warm. Short-haired dogs may not develop a thicker coat at all and require some man-made help. You don't have to worry about fit when you order a custom-made Alphenhitze dog coat. Alphenhitze custom dog coats are made to your pet's measurements using Polartec, a high-performance cold weather fabric that's lightweight, weather-tough and toasty warm. Thoughtful details provide top-notch winter protection, like a removable collar that's engineered not to flap in the wind and specially designed hind-quarters that completely cover the dog's hips. Alphenhitze custom dog coats even include reflective trim for nighttime visibility. Cost can range from around $80 to around $230, largely dependent on the size of your dog.
Doggie Snow Boots. If you notice your dog lifting its paws and whining during a walk, the ground or pavement may be making his paws painfully cold. Sidewalk salt and chemical ice melt products can also be dangerous to your dog's paws. By outfitting your dog in protective dog boots, you can save him a lot of discomfort, and keep him romping in the snow a lot longer. Bark'n Boots Grip Trex by Ruffwear are high tech doggie boots for all kinds of weather, and specially designed to lend traction on slippery surfaces. They're easy to get on and off your dog's feet and they're machine washable. For $59.95, you can outfit all four of your pet's paws for winter.
Heated Dog Bed. Once your dog is safely back indoors, help her warm up in a hurry with a toasty warm dog bed. Products like the Snuggle Safe dog bed heating pad provide a cordless option, warming up in the microwave in five minutes or less. Once warm, simply slide the Snuggle Safe under your pet's bedding and she'll enjoy up to ten hours of safe, comforting warmth. Cost: $34.99. Alternatively, electric pet bed warmers like this one from CozyWinters.com allow you to add thermostatically controlled warmth to whatever area your dog chooses to lounge. It heats up only when your dog is present and comes in three different sizes. It's not recommended for "chewers", however, due to the electrical cord — unless you also buy a cord protector like the CritterCord, which deters pets from chewing. Cost of the CritterCord: about $12. Cost of electric dog bed heated pads: between $24.95 and $39.95, depending on size.
Dog House Heating System. Some pet owners don't allow their dogs indoors, and some dogs like their dog houses too much to mind. But if it gets cold enough, even the toughest mutt might complain! That's when you might consider outfitting Fido's dog house with its own HVAC system. Portable 2500 BTU climate control units like this one can adjust between heating and air conditioning to provide a constant range of temps in winter and summer. It also provides additional functionality as a dehumidifier, preventing mold and mildew growth in your dog house. A built-in filtration system also keeps dust and dander under control — all for around $600. A less pricy option is the Deluxe Hound Heater for $89.95, which only runs when it's needed. It includes a heat shield that allows your dog to lay against the heater without getting burned. It can heat up to a 32 cubic square foot dog house.
Whether you do your dog a favor by simply moving his pet bed out of a drafty area, or go all-out and install a heating system in his dog house, be kind to your dog this winter.  Keep your beloved pets as safe and warm as you want to be.