An automatic standby generator helps you be prepared for the next power outage. Unlike portable units, a permanently installed generator is directly connected to your home's electrical system, and runs on the same natural gas or propane that also fuels your home. In tandem with an automatic transfer switch, the generator starts automatically when the system detects a utility outage, usually within 10 seconds or less.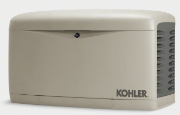 Depending on the home's size, a generator can power just a few critical items or an entire home, including lights, heating/cooling systems, refrigerators, sump pumps, security systems, electronics and more.
Many manufacturers, including Kohler, also offer remote monitoring capabilities so homeowners can manage their automatic standby generator from their laptop and mobile devices.
Homeowners should fully investigate their options and consult with a local power professional – this is not a do-it-yourself project. Key features to look for include a commercial-grade engine that provides clean, consistent power and can handle heavy loads; a non-corrosive enclosure (especially in areas with salt water); and a minimum five-year warranty.
Manufacturer websites like Kohler's feature a variety of helpful tools, including a sizing calculator, instructional videos and a dealer locator.
Kohler's most popular model is a 20 kW automatic standby home generator with automatic transfer switch. It has a suggested retail price of $4,722, plus $262 for OnCue Plus remote monitoring, which does not require a monthly data plan. Other accessories range from $82 to $850. This automatic standby home generator is available through an authorized Kohler dealer. Find a dealer and learn more at www.KohlerGenerators.com.